One cyclist killed after driver crashes into American sportive riders 'at more than 100mph'
Witnesses report that driver lost control as they travelled at double the speed limit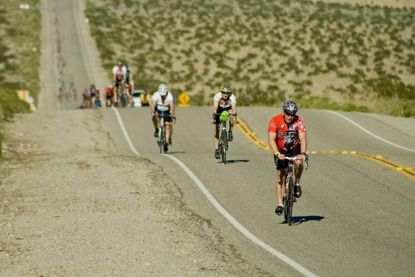 (Image credit: Flickr/Randy Heinitz)
One cyclist has been killed another seriously injured after they were hit by a car - which witnesses say was being driven at more than 100mph - while taking part in a sportive in California.
49-year-old Mark Kristofferson was pronounced dead at the scene and 50-year-old Alyson Lee Akers airlifted to hospital with serious injuries after they were involved in a collision with a car during the Tour de Palm Springs event.
Ronnie R. Huerta Jr., 21, was arrested shortly after the incident, which occurred on Dillon Road near Palm Springs in southern California just before 1pm on Saturday, and was treated for minor injuries at a nearby hospital.
>>> Postman who stole packages of cycling kit sentenced to six months in prison
The Desert Sun reports that witnesses told police that the Ford 500 car was being driven at more than 100mph along the route of the mass start sportive, more than twice the 50mph speed limit of the road.
Witnesses said that the driver of the car had been travelling eastbound in the same direction as the cyclists, veering into the opposite lane where they lost control before swerving back across the road and rolling the car.
California Highway Patrol Sergeant Isaiah Kee told the Desert Sun that although the driver's speed may have contributed to him not having seen the cyclists on the flat but hilly road, the presence of riders on the road should have been no surprise given the major event going on.
>>> 'Disc rotor cut to the bone': World Champs silver medallist blames deep cut to her knee on disc brakes
"There were so many participants that it was easy to see that there were bicyclists coming … it' not like you're travelling down the road and all of a sudden encounter a few bicyclists," Kee said.
Police are also investigating whether the driver could have been under the influence of drugs or alcohol at the time of the crash.
Tour de Palm Springs event organisers say that they are still gathering information on the incident, so are not yet able to comment.
Thank you for reading 20 articles this month* Join now for unlimited access
Enjoy your first month for just £1 / $1 / €1
*Read 5 free articles per month without a subscription
Join now for unlimited access
Try first month for just £1 / $1 / €1