Pictures of the Year 2015: Andy Jones
Cycling Weekly photographer Andy Jones chooses his favourite images from the 2015 season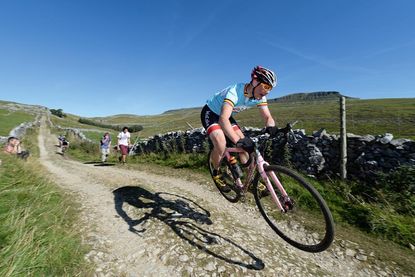 (Image credit: Andy Jones)
Tour of Britain, September. I found a high viewpoint on the Llanberis Pass where I could look both down onto and up the pass as the peloton came through. What a great back-drop and sense of scale you get from here, the peloton and race convoy dwarfed by the valley sides that sweep down to the road.
Peak District, March. I had the chance of catching up with Ian Stannard on a training ride just after his Omloop Het Nieuwsbald win. He used some roads I know well from cycling them myself. The weather was bright, the light was nice and it just makes for a nice picture of a top pro out enjoying the bike.
Tour Series, May. George Atkins warms up for the round in Barrow. I like the 'graphic style' of this image. The One Pro Cycling vehicle branding gives the effect that there is a deep shadow across the picture that works nicely with the rider's position and the rich evening light.
Tour of the Reservoir, April. The second stage of the Tour of the Reservoir was a bit of an epic. Sleety snow set the scene as the riders set out from Blanchland. The stage was shortened due to these conditions.
Matrix Fitness Grand Prix Series, June. The Royal Crescent in Bath was the perfect backdrop to the finale of the Pearl Izumi Tour Series and Matrix Fitness Grand Prix Series. Here the women's race takes to the cobbles of the crescent in beautiful late afternoon light.
National Championships road race, June. Lizzie Armitstead attacks the cobbles of Lincoln on the way to a solo victory. After coming back from a finish line crash on stage one of the Women's Tour in Aldeburgh just 11 days previously, Armitstead showed true Yorkshire grit to take the win.
Hill-Climb National Championships, October. I'd wandered the whole length of the hill at Jackson Bridge, but settled at this point as I realised the crowd interaction could make for a nice image. Here Chris Myhill gets the full treatment.
City RC 10, May. Sir Bradley Wiggins making an appearance in his world champion's skinsuit at a Saturday afternoon time trial near Hull was an unusual sight. He didn't get the 10-mile record he was after, but crowds cheered him on from every vantage point along the A63. I grabbed this final shot after a dash to the last lay-by before the finish.
Three Peaks cyclo-cross, September. Piers Mortimer of Velocake flies high on the descent off Pen-y-ghent. I'd taken a few head-on shots of the leading riders get air with the 300mm lens but later decided to get the 14-24mm out of the bag and alter the angle to get in the peak's summit as a backdrop.
Thank you for reading 20 articles this month* Join now for unlimited access
Enjoy your first month for just £1 / $1 / €1
*Read 5 free articles per month without a subscription
Join now for unlimited access
Try first month for just £1 / $1 / €1