Michael Rasmussen suspended by team and out of Tour de France
Yellow jersey wearer has been withdrawn from the race for lying about his whereabouts earlier in the season.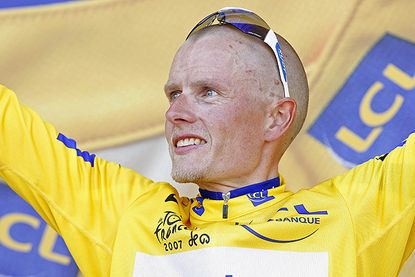 Tour de France leader Michael Rasmussen has been withdrawn from the event and suspended by his Rabobank team.
The sudden withdrawal of Rasmussen came on Wednesday night after he won stage 16 earlier in the day. Rabobank are said to have taken the decision based on the Dane's failure to truthfully notify the team of his whereabouts when not racing, and his failure to attend out of competition dope controls.
Rasmussen had previously stated that he had spent time training in Mexico during the off-season, but it has transpired that he was actually in Italy.
Rasmussen has been the focus of intense scrutiny since the news broke last week that he had asked a US mountain biker to unwittingly transport blood doping products from the USA to Italy in 2002.
This is the latest scandal to hit this year's Tour de France after Alexandre Vinokourov failed a test for blood doping after Friday's time trial, followed by the withdrawal of his entire Astana team on Tuesday.
Cofidis then pulled out from the event on Wednesday evening after news broke that team member Cristian Moreni tested positive for exogenous testosterone after stage 11. The Cofidis Tour squad included Briton Bradley Wiggins, who had placed in the top five of the London prologue and Friday's individual time trial.
Alberto Contador of the Discovery Channel team will take over the lead of the race, although there is mounting pressure on the organisers to call a halt this year's event.
More details to follow
Thank you for reading 5 articles this month* Join now for unlimited access
Enjoy your first month for just £1 / $1 / €1
*Read 5 free articles per month without a subscription
Join now for unlimited access
Try first month for just £1 / $1 / €1