Roman Kreuziger takes a lie detector test to prove he isn't a doper
Roman Kreuziger tries a different method to clear his name as questions remain in on-going biological passport case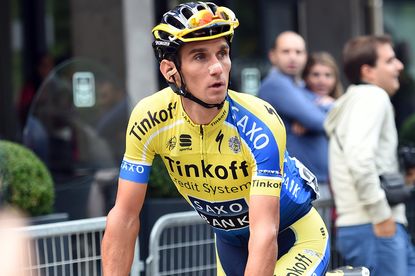 Roman Kreuziger, who is awaiting a biological passport appeals case, said that he took and passed a lie detector to prove that he did not dope.
"I answered three key questions, and the detector confirmed that speak the truth," Kreuziger said. "I repeat: I am not a cheater or liar and I never doped."
He listed the three questions and his answers:
1. Have you ever doped? NO!
2. Have you ever had a blood transfusion? NO!
3. Have you ever used EPO? NO!
The 28-year-old Czech admitted in 2013 to working with banned doping doctor Michele Ferrari, but said it was only for training plans.
He faces an appeals case with the Court of Arbitration for Sport (CAS) after his biological passport showed off-numbers that indicated doping.
Awaiting the case, he is free to race with team Tinkoff-Saxo and is due to begin his season with the Tour of Oman on February 17. If the court rules against him, he could fast a two- to four-year ban.
In past appeals, the court ruled in favour of cycling's governing body (UCI) and its biological passport that is approved by the World Anti-Doping Agency (WADA).
Roman Kreuziger's lawyer suggests that his client's blood passports anomalies due to badly stored and handled samples and an under-active
The UCI appealed, and won, when Italy cleared Franco Pellizotti after his passport showed anomalies. Italy banned Pietro Caucchioli, who appealed to CAS and lost.
Kreuziger took the test in Prague. Terry Mullins, a member of the American Polygraph Association and British Polygraph Association, tested him. It is assumed Kreuziger paid for Mullins' work.
The results may not matter for arbitration hearing in Lausanne, Switzerland. Tyler Hamilton said that he cheated and beat a lie detector test. Alberto Contador submitted results of a lie detector test in his 2010 Tour de France doping case, which he lost.
Kreuziger won the 2013 Amstel Gold Race, took the white jersey at the 2011 Giro d'Italia and placed fifth overall at the 2013 Tour. Tinkoff wanted him to support Alberto Contador at the 2014 Tour, but in June his passport case emerged.
His passport from 2011 and 2012, when he raced with team Astana, revealed abnormal values. The Czech Olympic Committee cleared him, however, and he returned to race Milan-Turin on October 1. The UCI appealed to the high court, which has yet to set a hearing date.
Kreuziger argues that the UCI's controllers mishandled his samples and that he had an under-active thyroid gland. He and his lawyer, Jan Stovicek, may also take the new lie detector results to the hearing.
Thank you for reading 10 articles this month* Join now for unlimited access
Enjoy your first month for just £1 / $1 / €1
*Read 5 free articles per month without a subscription
Join now for unlimited access
Try first month for just £1 / $1 / €1