Roman Kreuziger admits working with banned Dr Ferrari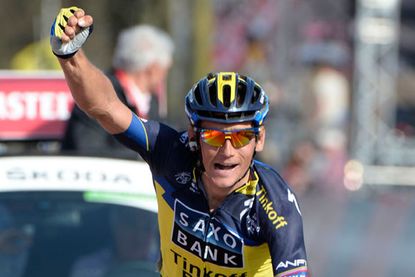 Roman Kreuziger (Saxo-Tinkoff), winner of the Amstel Gold Race last month, admitted today to working with known doping doctor Michele Ferrari. He said he consulted the banned Italian doctor for a little over a year, from the autumn of 2006 through 2007.
"When I started working with him I was 20 years old. I was in my first year as a professional, and at the time, I believed he was one of the best coaches in the world. That was why I contacted him back then," Kreuziger said in an e-mail to Cycling Weekly. "At that time I didn't know he was banned."
Asked if he ever doped, Kreuziger said, "No. Never."
Italian doctor Ferrari has been banned twice in doping cases, including in last year's Lance Armstrong case. In 2002, Ferrari was prohibited from working cyclists in Italy. He reportedly helped riders dope with EPO, testosterone and other banned products or methods.
After links were exposed in the last year, Filippo Pozzato and Michele Scarponi served bans for their ties.
In the Czech federation's hands
Cycling Weekly approached the 27-year-old Kreuziger several times after he won the Amstel Gold Race to talk about his possible ties. Former Liquigas team-mate, Leonardo Bertagnolli pointed to Kreuziger in an affidavit dated May 18, 2011.
Bertagnolli said, "I know that many of my team-mates went to Ferrari because we talked about it and the team knew: [Franco] Pellizotti, [Roman] Kreuziger, [Enrico] Gasparotto, [Francesco] Chicchi."
"When I was asked about my relationship with Ferrari before Liège-Bastogne-Liège, I didn't want to hide it," added Kreuziger, "But I had decided it would be the most appropriate to go to the Czech Federation in the first place to inform them on this matter before addressing it in public. I talked with my federation shortly after Tour of Romandie finished."
He explained he is unsure if he will be suspended. As with the Italian federation in previous cases, the Czech federation may issue him a backdated ban or perhaps something longer. Even if Kreuziger was only a first-year pro, it might consider it silly that he would not have known about Ferrari's past.
"It really is out of my hands," Kreuziger explained. "I did it as a very young rider and I didn't have any bad intentions, but as I said I take the full responsibility for my actions."
Saxo-Tinkoff said that it will support Kreuziger and let the national federation decide.
"Roman has told us the same things he just told you, and we have accepted his explanation," a Saxo-Tinkoff representative told Cycling Weekly. " When we encouraged him to contact his federation in the first place, he did so, knowing that he made a bad decision at the time, when he was a neo pro with another team, and he regrets this sincerely. We are convinced that Roman has a genuine wish to help move cycling forward and promote a clean sport, and this attitude is critical to have a place in our team."
Kreuziger raced with Liquigas at the time. At the end of the 2007 season, the Italian team changed its rules on riders working with outside trainers.
Going forward, Kreuziger said he worked with Paolo Slongo. Neal Henderson helped him in Astana in 2011 and 2012, and Giuseppe Toni took over when he joined Saxo-Tinkoff this year.
Related links
Kreuziger refuses to talk about links to banned doctor Ferrari
Thank you for reading 20 articles this month* Join now for unlimited access
Enjoy your first month for just £1 / $1 / €1
*Read 5 free articles per month without a subscription
Join now for unlimited access
Try first month for just £1 / $1 / €1