Second Dutch cyclist comes within inches of being hit by train at same level crossing
CCTV footage of the first incident was shared around the world – then it happened again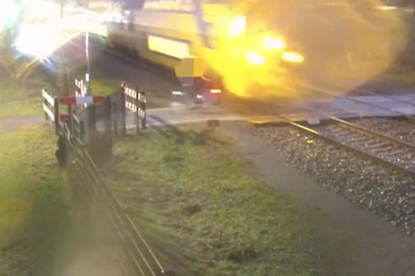 A second cyclist has come within inches of being hit by a train on the same level crossing in the Netherlands.
Last month, CCTV footage emerged of the moment a rider narrowly avoided being run down by a train while crossing the tracks.
The footage went viral but has failed to deter one cyclist who was almost struck on the same level crossing.
Dutch rail organisation ProRail published the first video on Facebook, warning that two people die at unguarded level crossings each year.
The authority published the second video on Monday morning, as the message has not got through to everyone.
ProRail said: "Again someone narrowly avoids death, fortunately the driver slows as soon as possible and gives the cyclist just those extra inches."
https://www.facebook.com/ProRail/videos/744607565938133/
Footage of the first near-miss was released after the death of a 47-year-old man at an unguarded crossing in Santpoort, North Holland on Saturday, November 17.
It shows the cyclist waiting at the level crossing while a train passes in one direction.
But as soon as the first train is gone, the cyclist rolls out into the middle of the tracks, apparently without looking in the opposite direction.
>>> British Cycling riders to undergo heart scans after high profile athletes suffer cardiac arrests
A double-decker train rapidly approaches the cyclist, who doesn't see it until the very last second.
Fortunately, they are able to push out of the way, the train narrowly missing the back wheel of the bike.
The second video shows a cyclist approaching the crossing in dark and rainy conditions.
After navigating a set of bollards, the rider pedals out onto the tracks as the train approaches.
The cyclist then appears to speed up as they cross, just scraping their back wheel past the front of the train.
They then stop on the far side of the tracks after the near-death experience.
Thank you for reading 5 articles this month* Join now for unlimited access
Enjoy your first month for just £1 / $1 / €1
*Read 5 free articles per month without a subscription
Join now for unlimited access
Try first month for just £1 / $1 / €1