Sir Chris Hoy gives his tips for buying your child a bike this Christmas (videos)
Buying a bike for your child this Christmas? Sir Chris Hoy gives some handy tips on what to look for when you hit the shops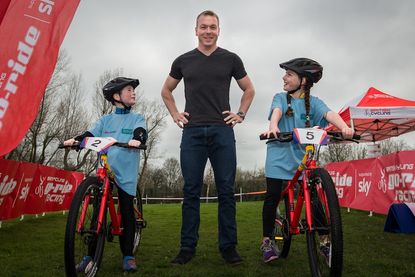 (Image credit: Joel Goodman)
Will your child run down the stairs this Christmas morning to find a bicycle-shaped present underneath the tree? If so, you need to ensure that you purchase a bike that's a suitable size for the kid, else it won't be a pleasant experience when they go on their post-lunch ride.
British Cycling have tweeted a couple of videos featuring Sir Chris Hoy giving his advice on what to look out for when buying a child's bike this festive season from choosing the right size and right type of bike.
>>> Team GB bike designer applies his expertise to Frog kids' bikes
When it comes to sizing, kids' bikes are different from adults', with Hoy explaining that the sizes you'll see referring mainly to the size of the wheels.
Obviously the issue with buying for children is that they have the tendency to grow, meaning that any bike you buy will eventually be too small. This is why, Hoy explains, it's important to look at adjustability of things like the seat post and handlebar reach, adding that you can always sell the bike when your child outgrows it.
>>> Top tips for buying kids' bikes
Then comes the types of bike on offer, which all comes down to what kind of cycling your child will do. There's no point buying a tiny road bike of your child has a passion for mountain biking!
Teach your child to ride
Thankfully, many bikes designed for children are pretty versatile as designers know that youngsters will want to take their bike anywhere, but there are plenty of specialist kids bike if your youngster knows exactly what they want to do.
>>> Kids have their say on how safe they feel cycling to school
Thank you for reading 20 articles this month* Join now for unlimited access
Enjoy your first month for just £1 / $1 / €1
*Read 5 free articles per month without a subscription
Join now for unlimited access
Try first month for just £1 / $1 / €1