Six-day stars late addition to Revolution line-up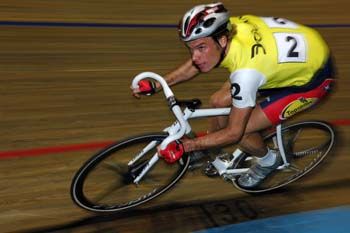 Fresh from the podium of the Grenoble Six-day in France, Luke Roberts, Leon Van Bon and Iljo Keisse will be bringing some Six-day magic to the Revolution line-up this Saturday. 
The trio, who took first, second and third respectively in Grenoble, will go into the first Revolution hoping to rack up points for their teams. Roberts is captain of the Dynamos team, with Van Bon and Keisse joining Forza and Rollers respectively.
Keisse tested positive for cathine in the 2008 Ghent Six but was cleared recently due to insufficient evidence.
The Rollers team will be without its captain Chris Newton on Saturday after being out to the Melbourne World Cup earlier than anticipated. For one night only, team-mate Geraint Thomas will stand in as captain until Newton returns in December to lead the Rollers for the rest of the Series.
The new-look Revolution Series starts this Saturday at the Manchester Velodrome, where four thousand spectators will watch the action in the new Championship team format unfold.
The full line-up of elite and Future Stars riders - as well as the race programme - can be accessed via www.cyclingrevolution.com
RELATED LINKS

Stars of the future to shine at the Revolution
Swift, Goss and Blythe join Revolution on Saturday