Tour de France returns to Germany for 2017 Grand Départ
Düsseldorf to host the Grand Départ of the 2017 Tour de France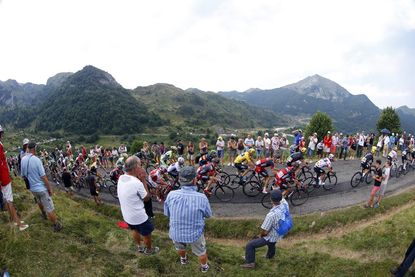 (Image credit: Watson)
The Tour de France will return to Germany, in Düsseldorf, for the first time in 30 years to start its race in 2017.
Organiser ASO said today that more details will be available at a press conference on January 14.
This morning, the organiser wrote on Twitter, "Grand Départ 2017: Düsseldorf #TDF2017" to break the news that had been rumoured for the last months.
"The Grand Départ is a huge opportunity for Düsseldorf – for our city marketing, the Sportscity Düsseldorf and Düsseldorf as a cycling friendly community," said Mayor Thomas Geisel.
"It is an honour for the German sports nation when the world wide biggest sports event in 2017 will start in Düsseldorf. I am confident that the entire Tour de France will be broadcasted live on German TV."
London, which beat Edinburgh and Manchester to host the Grand Départ, pulled its bid in September and put the fashion and art city on the Rhine River in pole position for the 2017 Tour start.
>>> BBC report reveals how close the 2017 Tour de France came to starting in London
Düsseldorf decided in a narrow 40-39 vote bid for the grand tour in November. It reportedly was up against Münster and Mannheim, and the Saarland state, to win over ASO.
It is the first time for Germany to see off the three-week French grand tour since West Berlin in 1987.
Watch: Best of the 2015 Tour de France
ASO said today that on January 14 it would host two press conferences, first in Paris and then in Düsseldorf, to detail its plan. A Grand Départ typically runs four to five days.
Teams arrive on Wednesday, a team presentations and press conferences on Thursday and Friday, and the first stage on Saturday. Followers will have to wait until next month, but additional stages could take place south through the Rheinland before the Tour re-enters its homeland near Metz.
It will not be cheap. According to the SID news agency, Düsseldorf's budget should be around €6.2 million or £4.6 million, but it should bring in €57 million (£41.9) to hotels and generate €30 million (£22.0m) in advertising.
London's budget was to be £35m and was "an awful lot to spend on a one-off event when you could put that money in to long-term projects," said Mayor Boris Johnson when he pulled the bid.
>>> Tour de France to air on German public television for first time in four years
The winning bid is a boost for German cycling, which continues to rebound after the doping scandals in the 1990s and 2000s that involved top cyclist and 1997 Tour winner Jan Ullrich
The good news comes on the heels of public broadcaster ARD's return to the Tour this July after a three-year absence. There was plenty to celebrate with the nation winning six stages with André Greipel (Lotto-Soudal), Tony Martin (Etixx-Quick Step) and Simon Geschke (Giant-Alpecin).
The 2016 Tour will begin in the country's northwest, in the Manche department of Normandy, on July 2. It is unclear if the 2017 Tour will be part of the WorldTour after the organiser decided to pull out of the top series on Friday in a row with the the sport's governing body.
Thank you for reading 20 articles this month* Join now for unlimited access
Enjoy your first month for just £1 / $1 / €1
*Read 5 free articles per month without a subscription
Join now for unlimited access
Try first month for just £1 / $1 / €1