UCI makes U-turn on team race radio ban
Teams will be allowed to use in-ear two-way communication in more top-level races in the 2016 season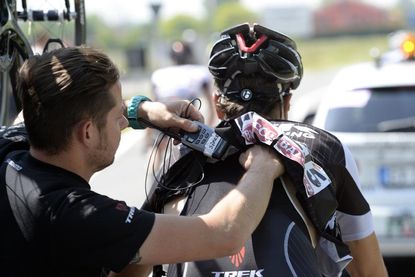 (Image credit: Watson)
Cycling's governing body backed down on its stance against race radios. Going ahead in the 2016 season, the Union Cycliste Internationale (UCI) will not only allow two-way communication between riders and teams in WorldTour events, but also in .1 and .HC category events.
The decision was made by UCI during a meeting at the Road World Championships in Richmond, USA, this week.
The UCI confirmed the rule change on Friday (September 25) as part of its announcements regarding changes that will revamp WorldTour teams and rankings. The following rule changes will come into effect in 2016, which also includes a relaxation on the use of on-bike cameras:
Article 2.2.024 will allow the use of radio links or other remote means of communication between riders and their teams in the UCI WorldTour, class HC and class 1 events for Elite Men; UCI Women's WorldTour and class 1 World Cup events for Elite Women; and time trial events.
Article 1.3.024 will authorise the use of onboard cameras without the need for teams and organisers to request permission from the UCI.
Instead of only in top stage races like the Tour de France or classics like Paris-Roubaix, cyclists and teams in 2016 will be able to use two-way radios in races such as the Tour of Britain, the Tour of California, or the Omloop Het Nieuwsblad.
The change essentially opens up radios to all events but .2 races and ends the long-running battle that the teams and riders had with the governing body.
The changes should apply to women's races as well. Under the current rules, the UCI only permits two-way radios in World Cup events.
>>> Jens Voigt writes open letter on race radio issue (2011)
The UCI blocked radios in all but WorldTour and women's World Cup events in 2011. They had tried to do so before but with limited success. At the 2009 Tour de France, after a trial run in a stage, team's protested. They also threatened to boycott the 2011 Tour of Beijing over the issue.
Watch: Five sexiest superbikes of 2016
Those in favour of two-way radios argue that it provides better safety and helps modernise a sport that is often racing behind. Critics say that it makes racing stale and predictable, allowing the group to time its catch of the escape just in time for the finish.
Either way, radios are back for 2016.
Thank you for reading 5 articles this month* Join now for unlimited access
Enjoy your first month for just £1 / $1 / €1
*Read 5 free articles per month without a subscription
Join now for unlimited access
Try first month for just £1 / $1 / €1