Ultracyclist sets world record for cycling 2,800km on a turbo in six days (video)
Basque cyclist Julian Sanz rides 2,800km on a turbo trainer in the space over six days to set a new Guinness World Record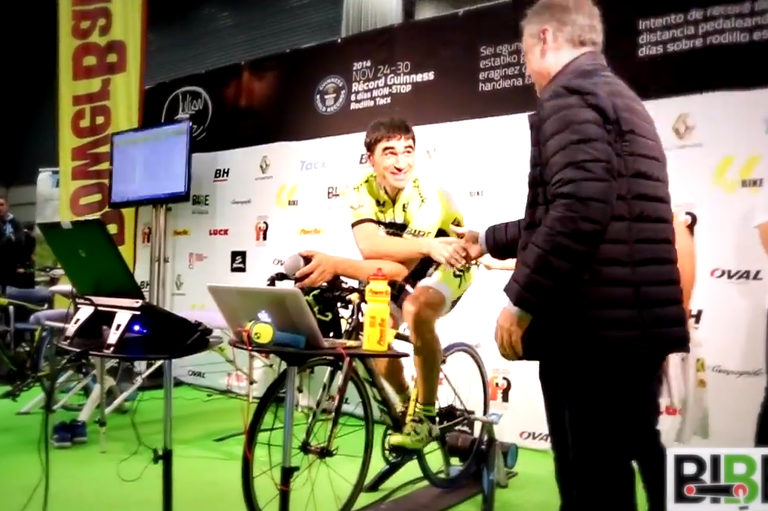 Many of us will have stuck a pinkie out of the window in the last week and decided it was too cold to go out cycling, setting up the turbo trainer instead.
But Spanish ultracyclist Julian Sanz took it a few steps further last week, riding 2,800km on a turbo at the BIBE 2014 trade show in Bilbao, breaking the world record.
Starting at 4pm on Monday, Sanz reached the 2,800km mark at 3.50pm on Saturday, breaking the 2,738km mark set by the Frenchman Pierre-Michaël Micaletti last January.
Setting off at a brisk 34kph on Monday, Sanz's speed decreased slowly throughout the week, down to an understandable 22kph by Saturday afternoon.
You would think that such a monumental effort would render a man unable to stand up, but Sanz celebrated his victory on stage by spraying the crowd with champagne.
So, if you fancy a challenge over Christmas, and don't want to leave the house for the Rapha Festive 500, then maybe give this world record a shot to burn off that excess turkey.
Can you/do you want to ride 500km between Christmas Eve and New Year's Eve? If so, sign up to the
Take to the turbo trainer for 
turbo performance