Vincenzo Nibali to Lampre? Italian team join race to sign three-time Grand Tour winner
Lampre-Merida have admitted interest in signing the 31-year-old after his contact at Astana expires at the end of 2016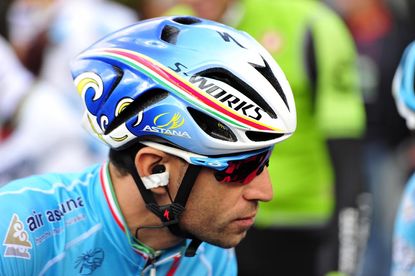 (Image credit: Watson)
Italy's top team Lampre-Merida is negotiating to have 2014 Tour de France winner Vincenzo Nibali in its blue and pink colours for the 2017 season. Nibali is out of contract at the end of 2016 and has interest from both his current team Astana and Trek-Segafredo.
Lampre would offer the Italian champion from Sicily a chance to ride for a home team again after racing for Fassa Bortolo and Liquigas-Cannondale.
"We've known him for ages, and with his contract coming to an end, there's interest from both sides to make a deal happen," Team Manager Brent Copeland told Cycling Weekly.
"Since the team is Italian that works in our favour. It's easier for him to discuss what he wants and there's not a board he has to approach to make requests. With our family-type atmosphere it is easy to talk and get answers. When it comes to race programmes and these things, we like having a family atmosphere."
The Galbusera family, owners the pre-coated steel company Lampre, have sponsored the team for the 22 years. If the deal were to happen, both Lampre and bike manufacturer Merida would need to give more money to increase the team's budget.
Watch: WorldTour contenders for 2016
"We have to talk to the sponsors, but they don't have an issue if the rider's worth it. It's more about what the whole package will be, such as riders and staff members," Copeland added.
"Nibali can bring in the wins and points throughout the season. He is worth it and he is only 31, so he has a few good years left."
Former world champion Rui Costa is already in team Lampre and has a contract through 2016. Copeland admitted that budget-wise it would be difficult if the team to have both him and Nibali in the team for 2017. Nibali, who also won the Giro d'Italia in 2013 and the Vuelta a España in 2010, could ask for around £3.5 million a year.
For now, Lampre is discussing with Nibali's agent what the team can offer and what Nibali will need. Along with Nibali, the team would likely bring on two of his helpers and some staff members.
It would be a coup for Lampre as Nibali is one of a handful of cyclists who has won all three Grand Tours. There are six in total with Alberto Contador and former stars like Eddy Merckx.
Unlike other Grand Tour stars Chris Froome and Contador, he also excels in big one-day races with a win in the 2015 Il Lombardia.
Though General Manager Alexandre Vinokourov said late last year that there is a 99 per cent chance that Nibali will stay with Astana, the two have had an on/off relationship over the last four years.
Team Trek-Segafredo is also knocking at Nibali's door with Lampre. The team is US-licenced, but managed by an Italian and supported by a new Italian co-sponsor, coffee-giant Segafredo.
Nibali will begin his 2016 season at the Tour of San Luis and aim to win the Giro d'Italia for a second time this May.
Thank you for reading 20 articles this month* Join now for unlimited access
Enjoy your first month for just £1 / $1 / €1
*Read 5 free articles per month without a subscription
Join now for unlimited access
Try first month for just £1 / $1 / €1