Wendy Houvenaghel says she experienced bullying and sexism in British Cycling
Former Great Britain rider Wendy Houvenaghel has spoken of her time on the British cycling team, and says there was a 'medal at any cost' approach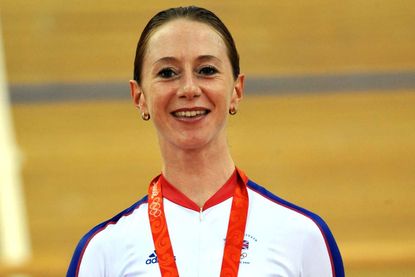 (Image credit: Graham Watson)
Former Great Britain Olympic rider Wendy Houvenaghel says that she experienced bullying and sexism during her time with the British cycling team.
Speaking to the BBC, Houvenaghel said that British Cycling had a 'medal at any cost' approach to their riders which led to a 'culture of fear'.
Houvenaghel was part of the women's endurance track programme, specialising the individual and team pursuit. She claimed a silver medal in the individual pursuit at the 2008 Olympic Games in Beijing, and world titles in the team pursuit in 2008, 2009 and 2011.
Houvenaghel says that former British Cycling technical director Shane Sutton "collectively referred to the women as bitches, routinely".
"I feel that was unprofessional and unnecessary, and unacceptable," Houvenaghel said.
>>> Shane Sutton used the word 'bitches' to Jess Varnish, leaked document confirms
Speaking about former GB team-mate Jess Varnish's original allegations against Sutton relating to sexism and bullying, Houvenaghel said "I wanted to support her fully. I could understand where she was coming from, and I felt really upset for her, that she was going through a similar situation as to what I had gone through four years previous".
Houvenaghel continued: "I can certainly relate to the bullying. For me, I felt it was more ageism. Being a little bit older than my team-mates didn't seem to be something that the staff necessarily wanted for 2012."
Sutton resigned from his post in April 2016 amid the allegations. An internal investigation into Sutton's behaviour by British Cycling found that he had used the term 'bitches', but was cleared of other charges.
Despite a strong season in the lead-up to the 2012 London Olympic Games, Houvenaghel was not selected to ride in the team pursuit in either the 2012 World Championships or 2012 Games.
>>> Wendy Houvenaghel retires as injury prevents Glasgow ride
"It was really in January 2012 that I started to feel as though I was being frozen out of the team, that was my own experience after six years of constantly medalling at World Cups, World Championships, nationals, both on the track and on the road and then they discarded me in a very undignified way."
At the point that Houvenaghel was excluded from the British team, she says that British Cycling did not regard her welfare. "They didn't care what happened to me afterwards," she said.
Houvenaghel says that not everyone was subjected to the same treatment within the team.
"There are certain chosen riders within the team that will not have experienced the culture of fear and not have been on the receiving end of that. The bullying, the harassment... being frozen out of opportunities."
Houvenaghel retired in 2014 after injury forced her to withdraw from the Commonwealth Games, where she was due to ride for Northern Ireland.
Thank you for reading 20 articles this month* Join now for unlimited access
Enjoy your first month for just £1 / $1 / €1
*Read 5 free articles per month without a subscription
Join now for unlimited access
Try first month for just £1 / $1 / €1