Winter cycling: the shortest day, longest ride challenge
With winter well and truly upon us, and Christmas getting ever closer, we look back at Rob Hoyles's epic day in the saddle when he and two friends attempted to do their longest ever ride on one of the shortest days of the year - Winter solstice is on Thursday, December 21 2017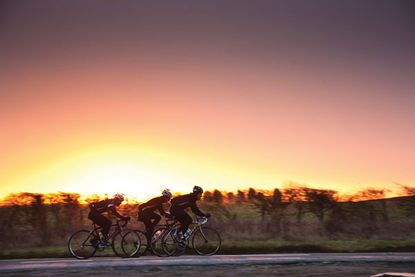 Like most cyclists, every once in a while my brain becomes riddled with ideas of how to spend the next hour, day or even week on my bike.
Some of these ideas are a little less ridiculous than others and, much to my amazement, after a tad more than the recommended daily units of alcohol had been consumed I managed to make two other cyclists agree to have a go at one of them.
>>> Christmas eating: Festive food swaps (video)
Both Ben and Mark admitted that their training had been haphazard at best and that the thankless hours spent staring at the garage wall during turbo sessions wasn't really doing much for their motivation, or indeed their sanity.
>>> 13 ways to increase your average cycling speed
This lapse in sanity however, proved a blessing for me as I now had two riding companions with which to share the joy of attempting to beat our own personal distance records, on the day with the least available daylight hours: some serious winter cycling.
The saying goes that 'misery loves company'. And it's true. When the going gets tough, camaraderie helps. And in the cold, dark depths of winter, it helps massively.
Whether it's the pressure of not letting someone down by exchanging an extra hour in the warmth and comfort of your bed for a freezing cold early morning ride, or the mutual encouragement when the energy levels drop and despair replaces delight, taking on a challenge however big or small, is that much better when it's taken on as a group.
>>> Ride and race smarter: improve skills to stay safe in the bunch
Shared achievements can create bonds that last a lifetime, and when it comes to the added complications and potential hazards of a long winter ride, a nod towards safety in numbers is certainly no bad thing.
Get your bike ready for some big winter rides
Planning something like this is only as complicated as you make it. For me, having only ever ridden 112 miles (180km) in one hit on a (warm, and very sunny) sportive a couple of years ago, the sheer scale of our challenge was somewhat daunting.
Both former elite cyclist Ben Price and prolific Ironman competitor Mark Harrod were targeting similar mileage. 178 miles (286km).
>>> Top tips to recharge your body and mind this winter
The distance from Mark's house in Stamford, Lincolnshire across to his restaurants and pubs spread from Northamptonshire, through Bedfordshire, Cambridgeshire and onto the Suffolk coast. I was starting to worry.
In the past, once the temperature had dropped into single figures, I'd limited my rides to no more than two hours, three at an absolute push.
Even if we could ride at our anticipated average of 19mph we were still looking at a potential minimum of nine hours in the saddle.
Did I say I was starting to worry? Sorry, I meant panic.
>>> Six moans and truths about winter cycling
After a hearty 6am breakfast, the three of us switched on our lights, saddled-up and set off. With the thermometer on Mark's garage wall reading -6˚c, we set off onto the cold, dark roads; our eyes wide, our helmet-mounted lights scanning the frozen road for ice.
>>> How to fuel for long distance rides
Within less than half an hour of riding we were greeted by the sight of photographer Jason frantically waving his arms in front of his car - parked sideways in someone's front garden.
The route we had chosen would have been great in the summer (when this ride was last undertaken) but with the sudden drop in temperature and the absence of gritting trucks from these remote, narrow back lanes, thick black ice had formed - in places reaching from gutter to gutter - a hazard of winter cycling that riders need to be aware of.
Our progress was slow at best, and by the time we arrived to a frosty picture postcard sunrise over Oundle, our average speed was well behind what we'd hoped for, having covered just 17 miles in 90 minutes.
As the sun slowly rose, so did our spirits. The ice and frost was fast turning into slush and any earlier nervousness was replaced with a sense of purpose as we tried to make up for lost time.
The pace increased with the three of us working together, taking turns on the front and riding the 'through-and-off' system to perfection.
>>> Winter's here: flu fighting foods
We were making good time, and apart from the discomfort caused by the constant cold spray from the rear wheel of the rider in front, it seemed as though conditions were set to improve.
Well I was almost right. 80 miles in and, as the temperature soared all the way up to 2˚c, down came the rain. I was already having difficulty matching Mark and Ben's pace and a few poor clothing choices meant that I was now drenched on the inside through sweat (wrong base layer choice), getting even more soaked by the rain (cheap, ancient rain jacket) and was struggling to maintain enough effort to generate sufficient body heat to stave off the shivers. It wasn't looking great.
>>> Cycling in the rain: how to survive it
Spurred on by the infectious enthusiasm and encouragement of my peers I made it to the lunch stop at Tuddenham Mill, some 108 miles since leaving Mark's house.
I was five miles short of my target but decided on staying healthy for Christmas after the early signs of hypothermia became apparent - and knowing deep down that I would serve only to slow the other guys down.
The chance to observe from the warmth of Jason's car proved utterly irresistible.
With 70 miles left to the finish at Dunwich, 25-year-old triathlete Abbie Thorrington joined the guys, her enthusiasm lifting their mood, her fresh legs the pace as they pedalled the final flat four hours, through the driving rain to the Suffolk coast.
A two-mile loop was added on (unintentionally, I should add...) so with Mark's Garmin read 180.07 miles, both his and Ben's personal one-day distance records had been broken. Beers and smiles all round, then.
>>> Winter road bike tyres
So did I feel like a bit of a loser? Well initially, yes, if I'm totally honest. But this ride served as massive lesson.
Choosing the right kit, choosing the right people to ride with and choosing the right route are all key to making it more bearable. Incidentally, I only got the first of those three wrong, just in case you were wondering.
What I learned the most, though, was that it is possible to train outdoors whatever the weather and for as long as you like.
I'd just ridden for six and a half hours - more than twice as long as I'd ever done in the winter before - and while I'd reached my limit I'd at least been left with the reasons why.
If you're still scratching your head thinking of what to do this winter, or patting a belly that won't get smaller by itself, what are you waiting for?
Line up a challenge this winter, get some mates involved and set yourself up for a fitter and faster 2016.
What not to wear
Cycle-specific kit is cycle-specific for a reason — as Rob found out to his cost. Even in sub-zero conditions you will sweat. Keeping that sweat away from the skin to prevent overcooling is absolutely critical and that's where clever fabrics come in.
Rob's mistake was to think that his motorcycle balaclava, base layer and winter socks would be ideal for cycling. The truth is that the design brief would be very different with a manufacturer hardly expecting a motorcyclist to sweat profusely while sitting still during a long, freezing cold journey.
>>> 10 worst winter kit mistakes and how to avoid them
As such, the wicking properties differ massively meaning that Rob ended up with damp, freezing cold skin — far from ideal in the depths of a British winter. Being damp massively increases heat loss.
Dry skin is an absolute must if you're to stave off the cold for any length of time and investing in decent base layers to wick sweat away and waterproof shells to fend off the rain is the only way to guarantee this. In short, choose kit that is designed for the job.
>>> Better than Castelli Gabba? Wet weather racing jackets on test
You'll be surprised at the difference it makes regardless of how similar the garments appear at first glance.
The rules of winter riding - doctor's orders
We spoke to regular Ironman competitor, 27-year-old Dr Mark Garcia - a man who understands the needs of endurance athletes better than most.
As a Specialty Registrar working in the A&E department of a large city hospital, Mark's understanding of human physiology combined with his own knowledge of what's required to reach and maintain a good fitness base gives a balanced view from both a doctor and an athlete's perspective.
>>> Embarrassing cycling problems, and how to prevent them
"This is a subject that always seems to be raised as soon as the weather gets a bit uncomfortable." Says Mark with a smile.
"Perhaps some of your readers will hope I suggest that they stay indoors and work on their fat stores, but I'm afraid that's not going to be the case.
"Sure, in animal terms, as humans we are tropical. But we've proved that as a species we are able to adapt to weather extremes. We've built up both objective and subjective resistance to weather meaning we can cross the Sahara or reach the North Pole relatively risk-free.
>>> Detraining: The truth about losing fitness
"In the modern age anything is possible, so to me, the suggestion that we can't go out for a long base miles ride just because it's a bit chilly is ridiculous - we just need to understand what happens when we do."
Your breathing is laboured or you feel tightness in your chest
Totally normal at this time of year. Unless you've got a chest infection (in which case you should be resting up anyway) there's no need to be alarmed if your breathing feels restricted, it's just your body's way of dealing with the intake of cold air.
Known as a 'bronchospasm', the muscles around the bronchial airways react to the cold air and spasm - giving that feeling of tightness - something that regularly happens in asthmatics.
Exercise-induced asthma is extremely common among biathletes and long-distance skiers due to the high intensity of the exercise and the low temperatures.
>>> Pro rider tips for winter cycling
If you feel your training is being held back, visit your GP - it could be that you simply need an inhaler to get you through the winter months.
When it's freezing you want to pee every five minutes
Don't get this confused with meaning that you're well hydrated, if anything, use it as a reminder to take on more fluids.
Known as 'insensible or inappropriate fluid loss', regular pee stops are brought about the body's own pressure sensors reacting to the raised pressure the only way they know how - by urging the kidneys to bring the pressure down.
>>> 31 things you always wanted to know about cycling, but were afraid to ask
All the kidneys can do in this situation (incorrectly) is make you pee. So make sure you keep on top of your hydration.
Even low-intensity rides seem to take so much more effort in the winter
Vasoconstriction is the narrowing of the blood vessels as your body tries to reduce blood flow in a bid to keep your core temperature at the correct level.
The most noticeable effect of this will be cold hands and feet due to this lack of blood flow but it's worth knowing that while your heart rate might appear to be lower, your heart will be working very hard to pump the blood round your body due to this increased vascular resistance and the subsequent increase in blood pressure. The knock-on effect is fatigue.
>>> Watch – Training zones: what are they and why do they matter?
So it seems that wearing the right kit for the conditions can have benefits other than the more obvious, tangible ones - better blood flow through staying warm means not only will your muscles work better and be better equipped to deal with the build-up of lactic acid, but also you'll be able to utilise your glycogen stores more easily to cope with the energy demands.
Your ability to cope with or clear lactic acid seems impaired
Any negative change in fitness (perceived or otherwise) can be very demoralising. Winter is depressing enough for most of us who enjoy being outdoors so understanding that the problems caused by vasoconstriction extend to the muscles themselves should come as good news.
The reduced blood supply and consequent lack of oxygen will affect your performance. This shortfall in oxygen will also mean that your tolerance to lactic acid will be impaired while its build-up will occur much faster.
Not only that, its removal will take far longer due to the reduced blood flow and an inability to both oxygenate and flush out any toxins from the muscles.
The key here is to warm-up and keep warm. "How many times have you got kitted-up, got yourself warm and then had to hang around waiting for people to turn up or just stood around chatting?" Asks Mark.
"Get warm and stay warm - the effect of essentially being below a decent operating temperature really cannot be underestimated."
Playing it safe
While we want everyone to be able to enjoy cycling all year round, we're even keener to make sure you do it safely and have plenty of fun while you're at it.
Long rides should be a test of your own physical endurance and fitness - not a test of bravery or foolhardiness.
"You can train as hard and for as many hours as you like in the winter - so long as you get the basics right." Mark told CW.
Understanding that heat loss is your biggest enemy should help you to make the right clothing choices but there are other factors to consider.
Fuelling is more critical in the winter as the body can struggle to utilise its own resources efficiently so, as well as eating a decent breakfast, a good stock of gels and energy bars for food-on-the-move is absolutely essential.
>>> Top 10 turbo training mistakes
"If all you can think about is how cold you are, then it's time to stop somewhere to try and warm up. Don't try and ignore it or think that by carrying on you're being tough. You're not.
Shivering is your body's last ditch attempt at keeping your core warm by forcing muscles into action in a bid to generate a bit of heat.
"Once you're at this stage your mobilisation of energy stores is already ineffective, your concentration will be reduced along with nerve conduction (your dexterity and coordination at this point will be pretty poor), making you far more likely to have an accident.
>>> Winter bikes: do you really need one?
"It's also worth knowing that blood coagulation (the ability and speed of blood clotting) is also impaired by low body temperature so should the worst happen and one of your riding companions have an accident, wrapping them up in your clothes is more than just a friendly gesture - it could prove to be a lifesaver."
Thank you for reading 10 articles this month* Join now for unlimited access
Enjoy your first month for just £1 / $1 / €1
*Read 5 free articles per month without a subscription
Join now for unlimited access
Try first month for just £1 / $1 / €1
Founded in 1891, Cycling Weekly and its team of expert journalists brings cyclists in-depth reviews, extensive coverage of both professional and domestic racing, as well as fitness advice and 'brew a cuppa and put your feet up' features. Cycling Weekly serves its audience across a range of platforms, from good old-fashioned print to online journalism, and video.