Mark Cavendish robbery: Police say 'net is closing in' on final suspect linked to violent raid
Essex police say time is running out for George Goddard who is wanted in connection with the attack on the Cavendish family home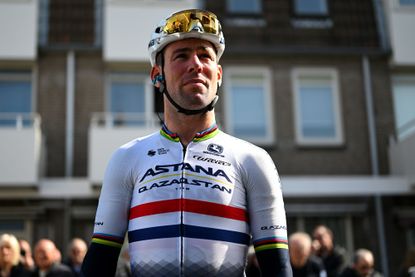 (Image credit: Getty Images)
Essex police has said that 'the net is closing in' on the final suspect wanted in connection with the armed raid on Mark Cavendish's home in November 2021.
Three men have all been jailed for their part in the violent attack in which two high value watches worth £700,000 were stolen. Cavendish was also threatened with a knife in front of his wife, Peta, and their children.
The thieves also made off with a Louis Vuitton suitcase, phones and a safe.
According to a report from the BBC, Essex Police have said that they still want to speak to a fourth man, George Goddard, who has not yet been apprehended. They have now issued a warning to Goddard and said "time is running out" for him.
Detective Chief Inspector Tony Atkin, who is leading the investigation, said: "We know from the evidence that four masked men with weapons entered that house.
"Our final suspect, George Goddard, remains outstanding and I know the net is closing in on him. He will also know this and feel this."
Addressing Goddard directly, Atkin made clear that the clock was ticking and added: "George, you will not stay hidden. We will continue to pursue you."
Goddard is understood to be from Loughton in Essex but has connections across East London.
Two men, Romario Henry, 31, and Ali Sesay, 28, were jailed in February and received prison sentences of 15 and 12 years respectively for their part in the robbery.
A third man, Jo Jobson, was found guilty of two counts of robbery on Wednesday and was handed a 15 year sentence at Chelmsford Crown Court.
Judge Timothy Walker, sentencing Jobson described the raid as "targeted and carefully planned" adding that it involved "at least four people, possibly more."
Cavendish and his family were in bed at the time of the attack and the judge said the effects on the family had been "dreadful".
After the sentencing, Mark and Peta said in a statement: "It has been harrowing, distressing and heart breaking for our family.
"To have to keep reliving the events of that horrific night, whilst trying to simultaneously heal from it, is a tough path to tread."
Speaking after the court hearing which saw Henry and Sesay jailed, Peta said: "No family should ever have to go through what we went through and I'm glad that two of the people have been sent to jail today for significant periods of time.
"But no matter what the sentence was, any parent will understand, I'm sure, that no time in prison could make up for what they did to us that night."
Thank you for reading 20 articles this month* Join now for unlimited access
Enjoy your first month for just £1 / $1 / €1
*Read 5 free articles per month without a subscription
Join now for unlimited access
Try first month for just £1 / $1 / €1