Open Cycle teams up with Omata
Collaborating with GPS cycling chronograph brand Omata, bike brand Open has released a limited edition run of just 20 Omata x Open U.P bikes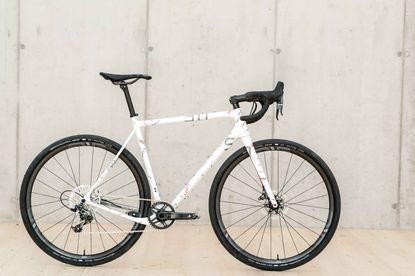 (Image credit: MARC GASCH PHOTOGRAPHY)
With just two bikes in its entire collection, boutique bike brand Open already has some impressive collaborations under its belt in the form of ENVE wheels and Rapha, and now adds the quirky cycling GPS brand Omata to its lineup of exclusive partners.
Open, the Swiss-based company set up by Gerard Vroomen, co-founder of Cervélo, and Andy Kessler, former CEO of BMC who met Vroomen when he became international sales director at Cervélo, opened its doors in 2012 and makes just two models — the Open ONE+ — an XC racing mountain bike with a sub-900g frame — and the Open U.P, an innovative do-it-all machine with a 1,150g frame.
Omata was established by two friends with a passion for cycling and exquisite design, and when going public with its kickstarter campaign in April 2016 smashed its $150,000 target in two days.
The two niche brands have now come together to create a limited run of 20 bikes in time for the world's biggest bike show Eurobike, which starts this weekend.
"Like every year we try to do something special for Eurobike," said Open founder Andy Kessler. "For this show we partnered U.P with Omata to do another one of our famous limited editions. Compared to our last Open-ENVE limited edition we changed the concept a little and we will number them all with 1/20."
As a brand keen to emphasise the beauty of just riding a bike without the need for "over-technologizing" cycling, Kessler said they were immediately smitten with the idea of the Omata GPS chronograph.
"It's high-tech, but its execution and use is so clean and minimalistic that it really adds to your ride instead of subtracting by distracting. We're excited to introduce a limited edition Open U.P with a design inspired on the Omata One's dial. There are only 20 available so just like our previous limited editions with Yeti, Rapha and others, this one is sure to sell out in days."
The limited edition Omata x Open U.P is available now direct from the Open website.
Thank you for reading 20 articles this month* Join now for unlimited access
Enjoy your first month for just £1 / $1 / €1
*Read 5 free articles per month without a subscription
Join now for unlimited access
Try first month for just £1 / $1 / €1