Peter Sagan given suspended prison sentence for drink driving offence
Three-time road world champion also banned from driving for three months, on eve of Tour de France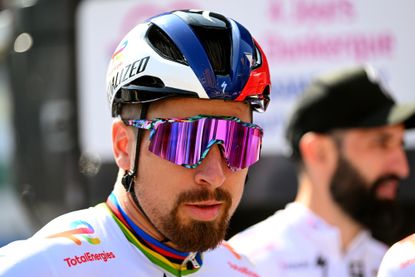 (Image credit: Getty)
Peter Sagan has been handed a three month suspended prison sentence, as well as a three month driving ban for a drunk driving offence in Monaco, local media reported on Wednesday.
The three-time road world champion is set to step away from road racing at the end of the season, turning his attention solely to mountain biking with one eye on the Paris Olympics in 2024. Sagan is due to take part in his final Tour de France which begins this Saturday in Bilbao, Spain. He has won the green jersey at the race a record seven times.
According to a report from Monaco Matin, Sagan was stopped and tested by French police in May after being seen trying to park a scooter after driving recklessly.
The Slovakian did not appear at the court hearing, due to the soon-to-begin Tour de France in Bilbao.
"It was 11:35 a.m. when the police noticed the risky, even dangerous behaviour of a driver behind the handlebars of his motorised vehicle," the magistrate said regarding the incident on 12 May, according to the reports.
"The driver was trying to park in a space reserved for two-wheelers. The officers approached and very quickly noticed the signs of the scooter driver's drunkenness.
"From then on, the rule to be observed was to blow into the breathalyser. The vague suspicions of the officials became a certainty."
According to Monaco-Matin, Sagan was taken police station in Monaco for a second test which confirmed the Slovakian was over the permitted alcohol limit.
In court, his lawyers argued that 33-year-old had been feeling the effects of jetlag and a lack of sleep after recently returning from the United States and that he was unaware that his alcohol levels were excessively high.
He was given a three-month suspended prison sentence for the offence as well as disqualified from driving for the same period, despite these claims.
On Wednesday evening, Sagan issued a statement via his Instagram channel and apologised for his actions.
He said: "I'm reaching out to tell you I'm deeply sorry for screwing up during a moment of weakness.
"I would like to apologise to my family, my friends, my team, our sponsors, and everybody that supported me.
"I'm committed to learning from this mistake and becoming a better person in the future."
Thank you for reading 20 articles this month* Join now for unlimited access
Enjoy your first month for just £1 / $1 / €1
*Read 5 free articles per month without a subscription
Join now for unlimited access
Try first month for just £1 / $1 / €1