Power couple Swenson and Villafañe unstoppable again at SBT GRVL
Vermeulen and Stetina, Cromwell and Oliveira Parks complete the podiums after 142 hot and dry miles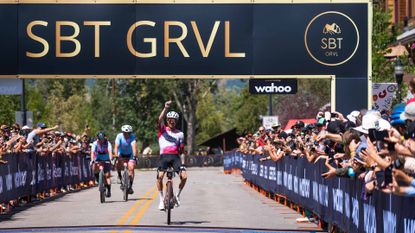 (Image credit: SBT GRVL)
Get The Leadout Newsletter
The latest race content, interviews, features, reviews and expert buying guides, direct to your inbox!
Thank you for signing up to The Pick. You will receive a verification email shortly.
There was a problem. Please refresh the page and try again.
The headline could have written itself, really.
The Fuego XL, Unbound 200, Crushar in the Tushar, Leadville 100 — all season long Keegan Swenson has been untouchable, often times soloing to finish line and setting new course records along the way.
In the women's race, his partner and Olympic mountain biker Sofia Gomez Villafañe has been doing the same, enjoying an incredible season topping the leaderboard of the Lifetime Grand Prix, a season-long gravel and mtb race series in which a cast of handpicked competitors travel throughout the United States in pursuit of a $250,000 prize purse.
At SBT GRVL this weekend, despite the best efforts of their competitors, the dominance continued; Swenson, the defending champion, remains completely untouchable while Villafañe took her first Steamboat win.
And by doing so, the duo also completed the so-called 'LeadBoat double' — where one competes in both the grueling, high-altitude 100-mile mountain bike race followed by a fast, 142-mile gravel race the following weekend (—it used to be the very next day!).
How the races unfolded
While not part of the Grand Prix series, SBT GRVL, now in its sixth year, is second biggest gravel race in the country, drawing some 3000 riders to the mountain town of Steamboat Spring, Colorado.
All the who's who of North American gravel scene were present, including Pete Stetina, Alexey Vermeulen, Adam Roberge, Lachlan Morton, Rob Britton, Payson McElveen, Brennan Wertz, Flavia Oliveira Parks, Ruth Winder, Lauren De Crescenzo, Sarah Sturm. Also part of the activity filled weekend were gravel's celebrity couple of Tiffany Cromwell (Canyon-SRAM) and F1's Valtteri Bottas.
The "Black" course got underway at 6:30 a.m. in the crips morning air. What awaited the riders was 142-miles of dry and hot conditions with 9,200 feet of climbing.
After a roll out on pavement, riders got into position to make the transfer onto gravel. As the pace lifted, a front group of around 100 riders emerged, the top male and female contenders among them. Swenson was keen to thin out the herd, starting his attacking as soon as 5 miles into the race.
Selections were made over the first climbs but it were the descents that did the most damage with many riders suffering flats. Past the first aid station and onto the pavement, the smooth surface and tail wind made for a high pace and new groups started to form.
In the front, the usual candidates of Stetina, Swenson, Vermeulen, Roberge, Morton, Britton, McElveen, Petr Vakoč and Grotts were all present. Swenson pushed the pace and before long, only Petr Vakoč managed to hang on.
The duo went clear as the chaser group would lose numbers due to slide outs and crashes .
The 3k climb out of the small town of Oak Creek, around 155 miles into the race, proved to be decisive for both the men's and women's field. It was here that Swenson made his move, attacking just before the crest and the wickedly fast descent toward the final climb and the race's most technical section.
Vakoč would lose two-and-a-half minutes to Swenson, who bested his own course record by 19 minutes, completing the course in 5:57:10. The final spot of the podium came down to a three-man sprint between former WorldTour roadies Vermeulen, Stetina and Morton some seven minutes later. It was Vermeulen, a former Jumbo-Visma rider, who bested Stetina and Morton finishing 4th and 5th, respectively.
SBT GRVL, Men's Top 10
1. Keegan Swenson, 5:57:10
2. Petr Vakoč, 5:59:30
3. Alexey Vermeulen, 6:04:37
4. Peter Stetina, 6:04:39
5. Lachlan Morton, 6:04:40
6. Robert Britton, 6:07:15
7. Payson McElveen, 6:10:16
8. Zach Calton, 6:10:29
9. Finn Gullickson, 6:10:34
10. Alex Hoehn, 6:15:04
In the women's field, Villafañe's tactic was to hold onto the front group of her male peers for as long as possible. Alexis Skarda rose to the challenge also and the duo spend most of the day riding together.
Behind them, former WorldTour road racers, Ruth Winder and Flavia Oliveira, were on the chase. After a rough start to the race, Cromwell (Canyon-SRAM) soon joined the chase from behind while Winder dropped out of contention.
Cromwell caught Oliveira and battled the head wind to get herself into a podium position while up ahead the battle between Skarda and Villafañe was about to come to an end.
On the brutal climb out of Oak Creek, Skarda started running out of steam and Villafañe powered on ahead without her.
Behind Skarda, Cromwell continued to make up ground quickly, and soon, Skarda, Cromwell and Oliveira joined up to make a formidable chase group with 20 miles to go. Villafañe's gap dwindled to just 35 seconds.
Coming into the course's most technical section at Cow Creek, the confidence and skillset of an Olympic mountain biker is what gave Villafañe her advantage. She soloed across the line, stopping the clock at 6:59:50. Cromwell, hot on her heels, came through at 7:00:55, and Oliveira, after a day spend chasing hard, finished third with a time of 7:03:10.

SBT GRVL, Women's Top 10
1. Sofia Gomez Villafañe, 6:59:50
2. Tiffany Cromwell, 7:00:55
3. Flavia Oliveira Parks, 7:03:10
4. Alexis Skarda, 7:09:17
5. Paige Onweller, 7:11:49
6. Heather Jackson, 7:14:26
7. Lauren De Crescenzo, 7:19:18
8. Katie Kantzes, 7:19:28
9. Sarah Lange, 7:20:19
10. Sarah Sturm, 7:20:19
Thank you for reading 20 articles this month* Join now for unlimited access
Enjoy your first month for just £1 / $1 / €1
*Read 5 free articles per month without a subscription
Join now for unlimited access
Try first month for just £1 / $1 / €1
Get The Leadout Newsletter
The latest race content, interviews, features, reviews and expert buying guides, direct to your inbox!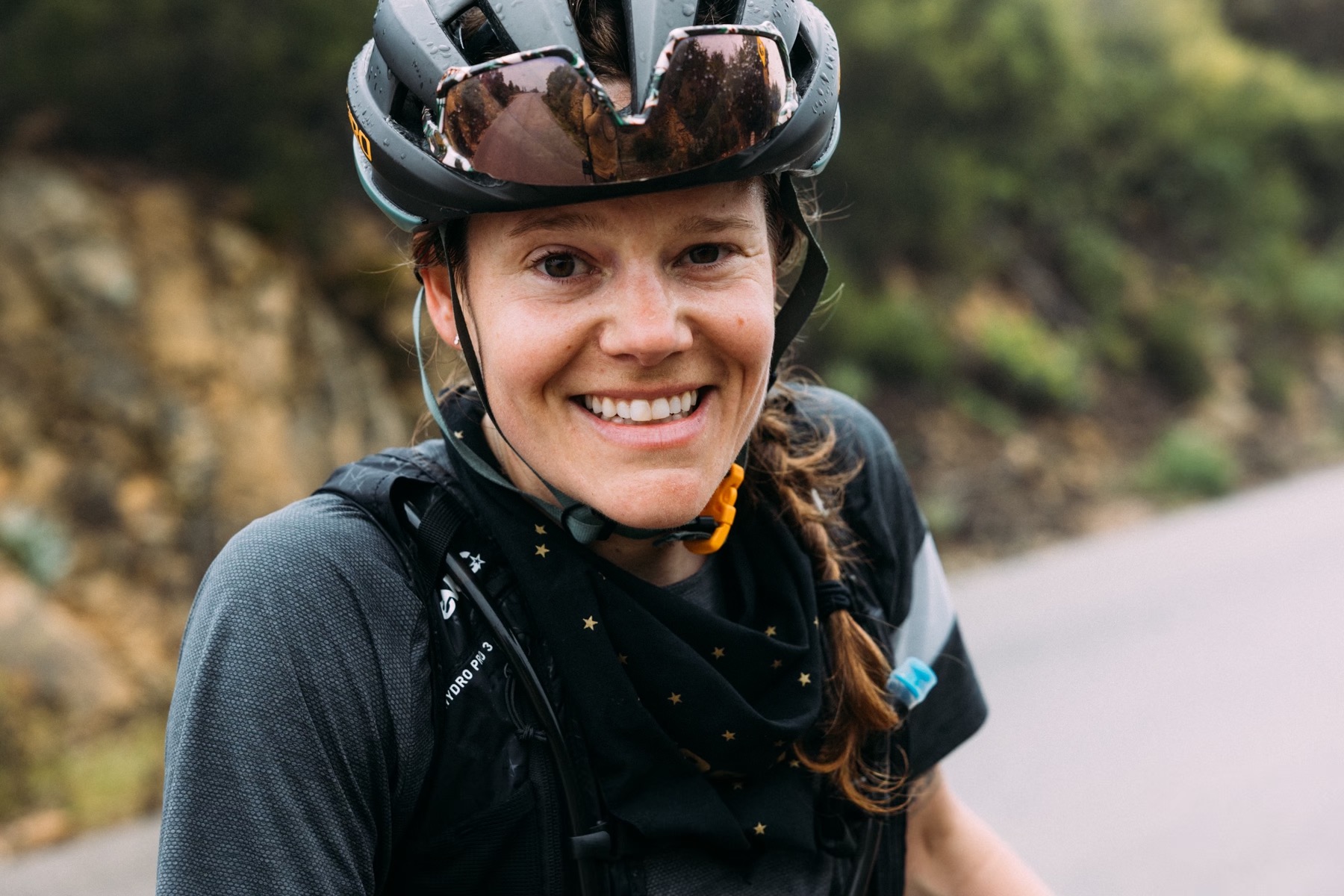 Cycling Weekly's North American Editor, Anne-Marije Rook is old school. She holds a degree in journalism and started out as a newspaper reporter — in print! She can even be seen bringing a pen and notepad to the press conference.
Originally from The Netherlands, she grew up a bike commuter and didn't find bike racing until her early twenties when living in Seattle, Washington. Strengthened by the many miles spent darting around Seattle's hilly streets on a steel single speed, Rook's progression in the sport was a quick one. As she competed at the elite level, her journalism career followed, and soon she became a full-time cycling journalist. She's now been a cycling journalist for 11 years.