These half price kids' bikes will give your children the best early riding experiences
As cyclists we know the benefits of getting into the sport early, so give your kids the best shot with these half price children's bikes from Tescos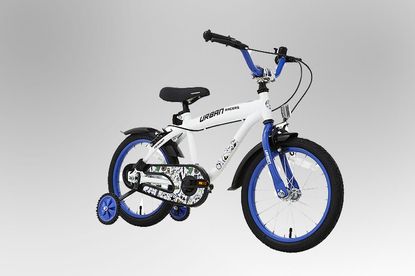 Tesco is offering the perfect opportunity to get your kids cycling with these better than half price children's bikes.
Included in the bargains are balance bikes as well as 20" pedal bikes, all with a whopping 50% discount for a limited time only. To benefit from the discount, simply enter the code located at the top of the page when you proceed to the checkout.
> Click here to see the half price tesco bike deals <<<
When we were young, we all learnt to cycle aboard normal bikes – and we've all got fond memories of cycling with friends and family.
However, it's now widely believed that introducing young ones to balance bikes at an early age is the best way to get them into cycling.
>>> The best balance bikes: a buyer's guide
Not only does it mean you can introduce your kids to cycling at an earlier age, but it also means they develop better technical skills. For example, they're a great way to improve your kids balance as well as bike handling.
Tesco has two great balance bike options up for grabs to help you get your little ones scooting.
Watch: How to set up a balance bike
If your children are a little old for balance bikes, then Tesco is also offering the perfect opportunity to get them their first real bike, or even upgrade their existing one.
>>> Kids' bikes: tips for buying a children's bike (opens in new tab)
For example, you can now get 12" wheeled hybrid bike equipped with stabilisers and mud guards or even a 20" wheel bike if the young ones are looking to go a little bit further.
What's more, it's not just kids bikes on offer – you could definitely grab yourself a bargain commuter bike.
There are a variety of hybrid bikes available as well as the rather fetching women's retro hybrid bike for £100. Equipped with mudguards and pannier racks as well as egonomic grips it'd be the perfect getting about town bike.
>>> Click here to see the half price Tesco deals <<<
If you're looking for something a little racier, there's also a dedicated road bike on half price. It's equipped with Shimano shifting and skinny wheels if you're looking to add a little zip to your morning commute.
Thank you for reading 10 articles this month* Join now for unlimited access
Enjoy your first month for just £1 / $1 / €1
*Read 5 free articles per month without a subscription
Join now for unlimited access
Try first month for just £1 / $1 / €1