How Dion Beukeboom is using tech to target Wiggins's hour record
Belgian brand Bioracer has worked with the rider to optimise clothing and position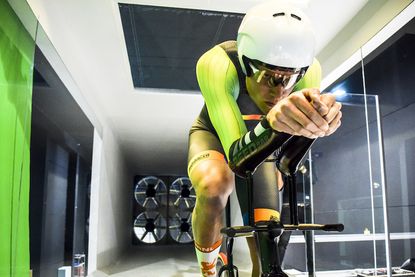 (Image credit: Mandy Louwet)
Bradley Wiggins' hour record of 54.526km was set back in 2015. Now there's a new set of riders looking to break that distance, starting out with Dutch track rider Dion Beukeboom .
Beukeboom has looked to use technology and innovation to allow him to better Wiggins's ride.
That started out with the decision to use the track at Aguascalientes in Mexico. Whereas Wiggins rode at around sea level, the track in Mexico is at 1888m altitude, leading to a significant reduction in air resistance.
>>> Wiggins's record is achievable says Dutchman ahead of Hour Record attempt
Beukeboom has also looked to source the fastest kit available, including a speedsuit from Bioracer, which also developed custom insoles for enhanced foot stability and power output.
Bioracer has worked with Beukeboom at the Flanders Bike Valley wind tunnel to optimise position and aerodynamics at wind speeds of 56kph. Bioracer says that with 2/3 of total drag coming from the rider, optimisation of clothing and position give the biggest potential gains.
>>> Are aerodynamic fabric worth it?
BIoracer says that its position optimisation will save over 20 watts, adding around 1km to his distance.
It then started working on clothing. Using the Speedmaster skinsuit saves around 14 watts, adding 500m extra potential distance. Aero socks save over 11 watts, for an extra 490m, while aero gloves save over 4 watts for an additional 170m. They're the same gloves first used by Tom Dumoulin to win the world time trial championship in Bergen.
>>> The best skinsuits for cycling: aero tested
In total, Bioracer says that Beukeboom's clothing choices should save over 30 watts, adding over a kilometre to his potential distance covered.
Other kit wind tunnel tested included bike frame, helmet, shoes, saddle, wheels and tyres. Combined, these choices should save over 16 watts and add 590m to distance covered. The wind tunnel results suggest that Beukeboom should be able to cover 2410m extra as a result of his kit choices.
Thank you for reading 20 articles this month* Join now for unlimited access
Enjoy your first month for just £1 / $1 / €1
*Read 5 free articles per month without a subscription
Join now for unlimited access
Try first month for just £1 / $1 / €1