This Dutch smart bike company will send 'bike hunters' to track down your stolen bike
Get a VanMoof and you'll never have to worry about bike theft again...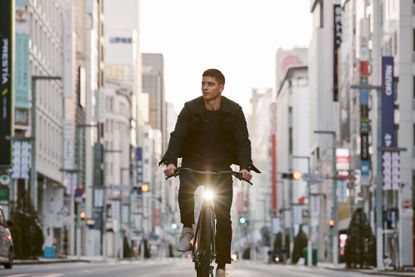 (Image credit: Mounir Raji)
A Dutch company has launched a smart bike that comes with an array of anti-theft features, plus an army of 'bike hunters' that will track your bike down and return it should it be stolen.
VanMoof's hybrid bikes will emit warning sounds, which get progressively louder if the bike is tampered with. If it's established that the bike has been stolen, it'll go in to lockdown mode - meaning the 'vital systems' are disabled and lights flash in SOS mode.
It doesn't stop there, the company has its own 'bike hunters' who have tracked bikes that have travelled as far as 295km. (opens in new tab) They work with local police when they reach the location of the stolen bike and even restore it if damage has taken place.
Describing one tale of recovery, VanMoof explains what happened when a 'bike hunter' found the location of one machine that made its way to Brussels: "Two hours, one bus, and a short walk later, our bike hunter is on the ground in Brussels. He rounds the corner, tracker in hand, just in time to see one very shiny SmartBike being loaded onto a truck.
"He puts in a call to the Belgian police, scales the truck and collects the bike, and gets a police escort to the station. By 8pm he's on a train headed back to VanMoof HQ, bike in hand, leaving the police to take care of the thieves. After a bit of love from our Bike Doctors, it'll be heading back to its rightful owner in Paris in time for a weekend ride."
>>> Bike theft statistics and how to lock your bike up safely
All sound expensive? The good news is that VanMoof is determined to break down barriers between people and bikes - so it's making them available on a 'VanMoof+ subscription' model, starting at £17 a month.
The bike uses 'rider recognition', acknowledging when the true owner is near via Bluetooth. The accompanying app can also be used to help you remember where you parked, and control the lights.
There are two models, an X and an S frame, and there are e-bike versions, too.
"Big cities around the world, including London, are struggling with a high number of stolen bicycles - we have tackled the problem at its root. With our intelligent technology we have created a bike that can take care of itself," says Ties Carlier, co-founder of VanMoof.
Discussing the subscription model, his bother and co-founder Taco Carlier said: "We're tapping into a need the world is asking for right now. We build our bikes to be extra robust in order to keep them on the road for as long as possible. With the VanMoof+ subscriptions we are proving that high-quality bicycles including theft insurance are cheaper in the long term," says Taco Carlier, co-founder of VanMoof.
The 2009 founded brand has stores in Amsterdam, New York, San Francisco, Berlin, London, Paris, Taipei and Tokyo. Prices start from £848 for a three-speed model, whilst an eight-speed bike will set you back £1098.
The "Peace of Mind" theft protection package costs £100 a year or £240 for three. Find out more at Vanmoof.com.
Thank you for reading 5 articles this month* Join now for unlimited access
Enjoy your first month for just £1 / $1 / €1
*Read 5 free articles per month without a subscription
Join now for unlimited access
Try first month for just £1 / $1 / €1