Kiss your tan lines goodbye thanks to Ekoi's new 'bronzing' jersey technology
Say goodbye to your tan lines with Ekoi's new "trans-bronzing" jersey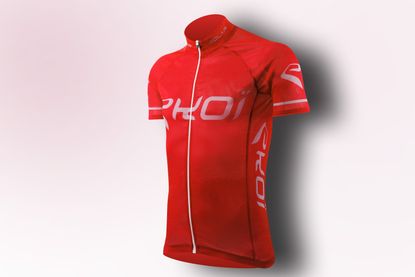 It might not sound like groundbreaking news, but Ekoi's new jersey could change cycling forever. Maybe.
That's right, the company's new jersey promises to remove those dodgy tan lines thanks to its new "trans-bronzing" technology.
The Ekoi Solair jersey uses fabric technology from SunSelect textiles, which is based in the Netherlands, and supposedly only allows the "tanning" UV-A rays through to the skin while filtering it out the harmful, more dangerous UV-B rays.
>>> 12 best summer cycling jerseys for 2017
Ekoi makes no mention of UV-C rays, and a quick Google did tell us UV-A makes you wrinkly and suppresses your immune system, but then again, you can't have everything.
Watch: How to dress for hot conditions
According to Ekoi, the the Solair jersey is the equivalent of wearing a "medium" level sunscreen, and Ekoi stress that if you have fair skin you should still apply additional sun screen before wearing the jersey.
The jersey follows other, slightly wacky announcements from Ekoi, including a one size fits all bib-short. According to the company the fabric stretches depending on the size of the rider.
It's a nice thought, though, that if you wear both, you'll truly be at the cutting edge of cycling technology.
The jersey will be available in five sizes, from small through to extra, extra large and in three colours, red, green and blue. It's available now on Ekoi's website.
Thank you for reading 10 articles this month* Join now for unlimited access
Enjoy your first month for just £1 / $1 / €1
*Read 5 free articles per month without a subscription
Join now for unlimited access
Try first month for just £1 / $1 / €1