Your Garmin Edge computer has just gained a whole load of new features
Garmin Edge 1000 is now integrated with SRAM Red eTap and Campagnolo EPS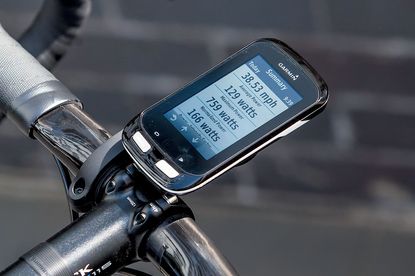 If you thought your Garmin had all the functions that you'd ever need, then think again, as Garmin has just added a whole load more features with its latest round of updates.
>>> Buyer's guide to Garmin Edge computers
The most exciting new features are reserved for users of the all-singing, all-dancing Garmin Edge 1000 and the Garmin Edge 520, on which you can now view your gear ratios and battery information if you're using SRAM Red eTap or Campagnolo EPS, rather than just Shimano Di2.
There are also plenty of new features for those using these top-end computers as serious traning devices. Now there is now an automatic FTP (functional threshold power) workout, FTP, VO2 Max and maximum heart rate calculations, and a "recovery advisor" that will tell you how long you need to wait before embarking on another hard workout.
>>> Training zones: what are they and why do they matter? (video)
For those sticking with their trusty Garmin Edge 510 or 810, then these computers now have support for the Garmin Varia smart bike lights system, which varies the brightness of the lights depending on the time of day.
All of the updates can be accessed via Garmin Express, which should prompt you to install the update the next time you plug your Garmin into your computer.
Thank you for reading 20 articles this month* Join now for unlimited access
Enjoy your first month for just £1 / $1 / €1
*Read 5 free articles per month without a subscription
Join now for unlimited access
Try first month for just £1 / $1 / €1