Limar launches Air Pro Volcanic helmet
Helmet used by Astana team for the Etna stage of the Giro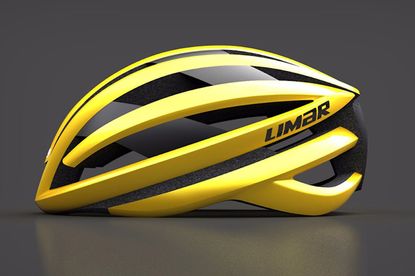 Limar says that it's brought forward the launch of the new Air Pro helmet, originally planned for the Tour de France, to this stage of the Giro d'Italia to satisfy the demands of Astana's riders.
The new Air Pro incorporates carbon fibre into the side ribs of the shell, which Limar says allows it to meet its safety, aerodynamics and ventilation objectives. It says that it wind tunnel tested the design at Magny Cours in France, as well as using computational simulations.
>>> Best aero bikes 2018: tested and rated
The carbon fibre content allowed it to reduce the thickness of the lateral ribs, for improved airflow and aerodynamics. It found that the shape of the longitudinal ribs reduced air pressure over the helmet and hence drag. In addition, Limar says that the Air Pro's extended tail helps prevent turbulence at the rear of the helmet.
>>> Best bike helmets reviewed 2018
Limar says that the Air Pro is 20% more aero efficient than its Ultralight helmet, with claimed benefits of up to 1 second over 10km. In addition, it says that it's developed a new Air Fit retention system, designed to be compact, thin and light. There are 20 vents and eight longitudinal channels to move air over the head –useful on the Giro's long, hot climbs.
It's Limar's second new helmet this year, with the Air Speed launched in January put to good effect by the Astana team on the heads of Miguel Angel Lopez and Michael Valgren amongst others already this season.
>>> Free speed: six ways to make you and your bike more aero without spending money
Limar offers the Air Pro in sizes Medium and Large, with claimed weights of 230g and 270g respectively.
Thank you for reading 5 articles this month* Join now for unlimited access
Enjoy your first month for just £1 / $1 / €1
*Read 5 free articles per month without a subscription
Join now for unlimited access
Try first month for just £1 / $1 / €1