Merida Scultura recall – how to find out if you're affected
Merida has recalled select models of its 2017 Scultura range, here's how to know if you're affected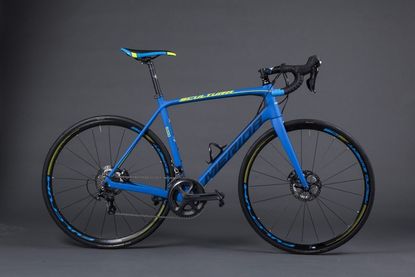 (Image credit: Chris Catchpole)
Merida has ordered a total recall of select 2017 Merida Scultura models, due to issues with the carbon fork.
The company announced via press release that the following Scultura models have forks that may need to be returned: 4000, 4000 Juliet, 5000, 6000 and the Scultura Special Edition.
The recall also affects the following disc versions: 200, 400, 400 Juliet, 500, 4000, 4000 Juliet, 5000 and 6000.
Merida claims that the defect actually lies within the fork rather than the frames. To find out if your fork is affected you can check the serial number on the back of it.
The affected forks will be labelled FK-CF1638 (rim brake) or FK-CF1638D (disc brake). Only the forks with production code A-O-UD after the serial number will be affected.
If you find you have one of the affected models, Merida stresses that you stop riding the bike immediately and contact the dealer from which you purchased the bike. The brand is running a replacement scheme for the forks in conjunction with its dealers.
Watch: How to fit clip on bars
According to Merida, the affected model's steerer is not able to withstand the stresses and strains of riding. Under intensive use, the area underneath the stem and spacers can crack and fracture, over time leading to total collapse.
Supposedly, the issue stems from an irregularity in the production process, a problem first highlight by a Merida sponsored amateur team in Italy. Upon further team inspections, Merida noticed other cracks developing.
According to the brand, it immediately contacted an independent testing lab who confirmed that the forks were not safe for use. Merida commented that, "Merida is fully aware of its responsibility towards its customers. The reason for this recall was neither foreseeable or actively avoidable".
It continued, "as cycling fans ourselves, we are aware how important time on the bike is for our customers and we are going to do our utmost to rectify this situation as soon as possible. We would like to apologise in advance for the inconvenience this will cause."
Thank you for reading 10 articles this month* Join now for unlimited access
Enjoy your first month for just £1 / $1 / €1
*Read 5 free articles per month without a subscription
Join now for unlimited access
Try first month for just £1 / $1 / €1