Merlin offers new disc brake winter training bike
The Axe is Merlin Cycles' new disc braked own-brand winter bike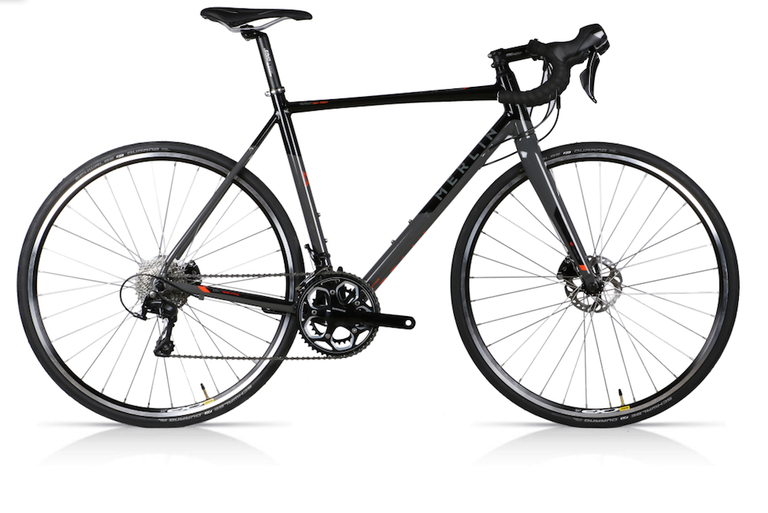 With the weather rapidly changing now, a bike with clearance for mudguards and winter tyres is looking like an increasingly good idea. Merlin's new Axe fits the bill. It comes with an aluminium frame and a tapered carbon fork and Merlin says it's durable, versatile and fast.
>>> Winter bikes: do you really need one?
The Axe has clearance for tyres up to 35mm and still take mudguards, so you can fit extra-wide winter tyres for a bit of extra compliance or knobblies and head out onto bridlepaths and tracks. As well as mudguard eyelets, it's also got rack mounts on the seat stays, so it can be used as a real load lugger too.
Watch: How to winterise your bike
The Axe comes in two specs. The higher spec 105 variant is priced at £1199.99, currently discounted to £949.99. It comes with Shimano RS505 hydraulic disc brakes with 1140mm rotors and 105 shifting, with an RS500 compact chainset and 105 12-32 cassette. Wheels have Mavic CXP rims built on Shimano RS505 6-bolt hubs and carry Schwalbe Durano Race 28mm tyres.
>>> Buy now from Merlin Cycles
Or you can save a bit of cash by dropping down to Tiagra shifting. You get a Tiagra 4700 four-arm compact chainset and ten speed Tiagra 11-32 cassette. Brakes are Tektro mechanical discs and wheels are Mavic CXP with CST Recourse tyres. Price for this build is £899.99, currently discounted to £649.99.
>>> 16 ways to stay motivated through autumn and winter
Size range in both specs is 50, 53, 56 and 59cm.