New Hidden Leaves women's collection and Milano-Roma collection from Rapha
Celebrating the off-season and a forgotten race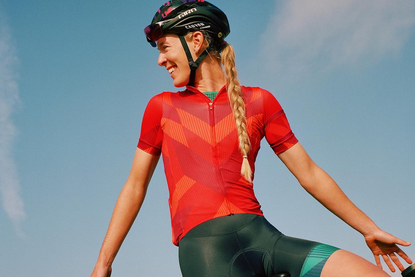 Rapha is launching two new clothing collections this week. The Hidden Leaves women's special edition has been designed in collaboration with Canyon-SRAM's Hannah Barnes, who gained inspiration from a trip to Japan. It says that the collection is inspired by the changing colours and cooler temperatures of autumn, with its pattern tracing the outline of a fallen leaf.
According to Barnes: "Autumn means the end of the race season. It's a time when the pressure is off and I ride purely for the pleasure of it. No structured training sessions, no intervals, no hill reps. Just exploring."
The collection includes a soon-to-be-released long sleeved Aero Jersey II (£140). It's based on the short sleeved Souplesse Aero jersey, Rapha's fastest piece. There's also a short sleeved Hidden Leaves edition of the Souplesse Jersey II (£120) and matching Souplesse II bibshorts (£180).
Hidden Leaves (opens in new tab) accessories include a sleeveless baselayer (£50), cap (£25) and socks (£15).
Milano-Roma collection
The new Milano-Roma collection (opens in new tab) celebrates the 100th anniversary of the last running of the erstwhile race between the two Italian cities. The race only happened twice: in 1906 and 1918. With 666km ridden over two days, it probably took the competitors that length of time to recover between outings.
Rapha says that it's taken design cues from futurism and cubism in the collection, the art movements in vogue in 1918, and that there are both on- and off-bike pieces, as befits a two-stage race.
Pieces in the range include a merino wool track jacket (£215) and a merino wool rollneck (£180). There's also a merino embroidered tee shirt and a version printed with a stylized Milano-Roma route map (£60 each).
On bike kit is catered for with a merino wool jersey, which comes with matching arm warmers (£160). There's also a cotton cap (£30), a knitted ride case (£50) and a silk scarf, also with the Milano-Roma routemap (£50).
Thank you for reading 5 articles this month* Join now for unlimited access
Enjoy your first month for just £1 / $1 / €1
*Read 5 free articles per month without a subscription
Join now for unlimited access
Try first month for just £1 / $1 / €1