Pirelli expands its tyre range to e-bikes
Five e-bike tyre models from the Italian brand, designed for different ride characteristics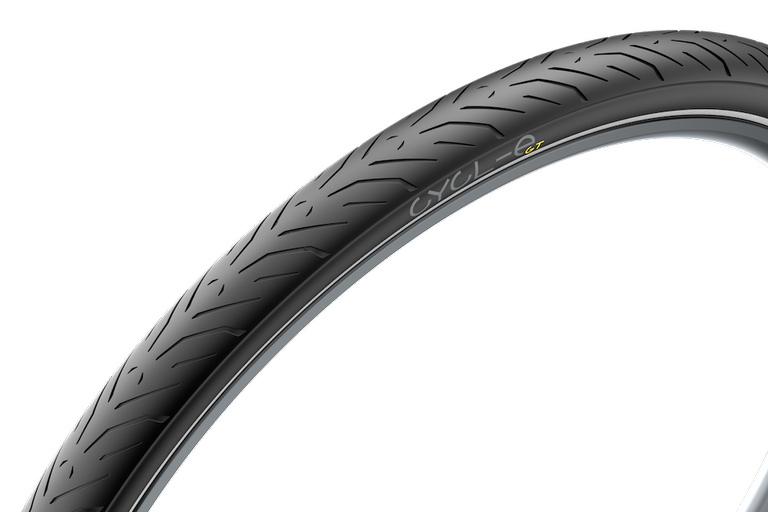 Pirelli has just announced a range of five e-bike tyres. Call Cycl-e, it joins an ever-expanding range of tyres for two wheeled transport.
The famous brand put its foot gingerly into the bicycle tyre market last year with the launch of the three tyre PZero Velo range. Since then, it's also added the Cinturato tubeless cycle tyre range and announced sponsorships of the Aqua Blue Sport and Michelton-Scott pro teams.
The Cycl-e Granturismo, or Cycl-e GT, is designed for higher performing e-bikes, says Pirelli, It marks the tyre out as enhancing the dynamic characteristics of sports rides and for performance in city traffic.
Based on the design of Pirelli's motorcycle tyres, it's designed for confident riding both in town and when taking in faster, sinuous routes.
Pirelli's other e-bike tyres come in "traditional" and "sport" versions. Pirelli says that the traditional tread pattern has pronounced radial grooves for maximum safety. The sport tread has a slick central tread, with a more longitudinal groove pattern. This is designed to reduce noise and vibration an higher rolling speeds.
The Cycl-e Downtown and Downtown Sport (which Pirelli abbreviates to Cycl-e DT and DT Sport) are aimed mainly at urban use, with a design which Pirelli says adds smoothness, reliability and maximum grip regardless of the surface and weather conditions.
Finally the Crossterrain and Crossterrain Sport (or Cycl-e XT and XT Sport) are designed for more challenging terrain and unpaved roads. They have more, deeper grooves and added knobs for increased grip on loose surfaces.
>>> Does my tyre compound matter?
Pirelli touts the new tyres' puncture protection, with a different base compound used from the more grippy cap compound, in contact with the road surface. And to increase sustainability, Pirelli incorporates recycled car tyre rubber into the new Cycl-e tyres.
Weights and sizes
Here are Pirelli's figures for the weights for all the tyres in the Cycl-e range in their different wheel sizes and widths.
Cycl-e GT (Granturismo)
37-622 CycGT rigid bead, reflex
780 g
42-622 CycGT rigid bead, reflex
930 g
50-622 CycGT rigid bead, reflex
1180 g
54-559 CycGT rigid bead, reflex
1030 g
57-584 CycGT rigid bead, reflex
1230 g
Cycl-e DT (Dowtown)
37-622 CycDT rigid bead, reflex
780 g
42-622 CycDT rigid bead, reflex
930 g
47-622 CycDT rigid bead, reflex
1050 g
50-622 CycDT rigid bead, reflex
1180 g
Cycl-e DTs (Dowtown Sport)
32-622 CycDTs rigid bead, reflex
690 g
37-622 CycDTs rigid bead, reflex
780 g
42-622 CycDTs rigid bead, reflex
930 g
47-622 CycDTs rigid bead, reflex
1050 g
Cycl-e XT (Crossterrain)
37-622 CycXT rigid bead, reflex
780 g
42-622 CycXT rigid bead, reflex
930 g
47-622 CycXT rigid bead, reflex
1050 g
50-622 CycXT rigid bead, reflex
1180 g
Cycl-e XTs (Crossterrain Sport)
32-622 CycXTs rigid bead, reflex
690 g
37-622 CycXTs rigid bead, reflex
780 g
42-622 CycXTs rigid bead, reflex
930 g
47-622 CycXTs rigid bead, reflex
1050 g