Sidi customises Shot shoes for Bahrain-Merida
After launching its range topping Shot cycling shoes, Sidi customises them for new team Bahrain-Merida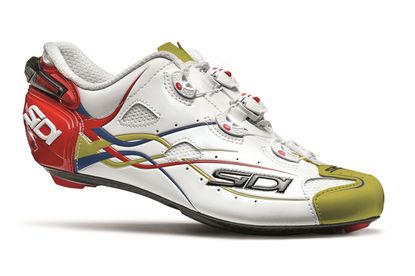 Team Bahrain-Merida "officially kicked off their season with style" last Sunday as it launched the team to the world in Manama, Bahrain. Sidi will provide "special edition" Sidi Shot shoes to the entire team as official shoe supplier for all riders in 2017.
>>> Bahrain Merida show off their bikes
The Sidi Shot is to represent the colour scheme of the Bahrain team, which incorporates the nations flag colours that is predominately white and red. Blue represents the island nestled between two seas and gold is linked to the Bahrain Kingdom's royal household.
Being the official supplier for the team, Sidi will enjoy the logo on shoe covers, socks and the jersey hoping for maximum exposure in the biggest cycle races.
Watch: buyer's guide to cycling shoes
"This is an important project that has captured our interest from its inception. We're certain that the team can vie for some prestigious milestones. The team can count on some highly valuable members among both riders and technical staff," said Dino Signori, owner and founder of Sidi.
With Vincenzo Nibali returning to Sidi shoes for 2017, after being with Specialized in previous years, it brings hope to owner Signori of an Italian rider, with Italian shoes wearing the maglia rosa as the 'Shark' did in 2010.
"We are very happy to rejoin Vincenzo Nibali; he even came to pay us a visit at company headquarters to work out some details on his new Shot shoes. When 'the Shark' donned his first maglia rosa in 2010, he was wearing Sidi on his feet. Since then he has scored two successes at the Giro, one at the Tour and one in the Vuelta, and I am sure that this portfolio will only expand further."
Thank you for reading 20 articles this month* Join now for unlimited access
Enjoy your first month for just £1 / $1 / €1
*Read 5 free articles per month without a subscription
Join now for unlimited access
Try first month for just £1 / $1 / €1