Spotted: Madone Disc, new Venge Vias & Ridley Noah ridden at the Dauphiné & Tour de Suisse
The year of the aero bike?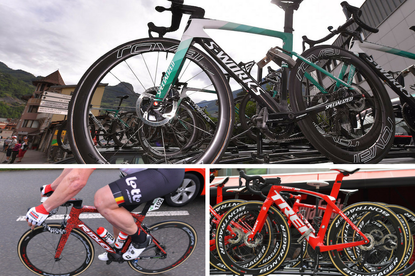 Here at Cycling Weekly, we've always got our eyes peeled at the pro races for any fancy pants new technology that the teams are testing. At the Critérium du Dauphiné last week and Tour de Suisse this week we've spotted three different, unreleased aero bikes from Specialized, Trek and Ridley.
We'll start with the Specialized, and, predictably, it looks like a new Venge Vias, but with some major design changes. Gone are the overbuilt, complicated frame designs and instead is a bike that looks a lot like a slightly pointier Specialized Tarmac.
In particular, the down tube looks different, and it doesn't have the cut away that was on the old Venge Vias and it looks slimmer, too. The head tube is a different shape as well; it's smaller looking without the stack on top. It's interesting to see Peter Sagan riding disc brakes, considering we usually see him on rim brakes during races.
Next up, the Trek Madone, which now has disc brakes. This alone is a big change for the bike, and for a long time the Madone was one of the major aero bikes without a disc brake option. From the photos here, Trek-Segafredo are using the older Shimano discs, rather than the latest Shimano Dura-Ace options.
As far as we can tell, the frame looks subtly different, too. The last model had a straighter top tube, and one of the photos appears to show an Isospeed slider, similar to that found on the Trek Domane.
This potentially new Ridley Noah is harder to spot because of the wrap being used to hide the frame's detailing. The changes are most evident on the fork, which looks to have lost the vents of the previous model; whether this is aesthetic or aerodynamic is unclear.
The head tube is also different, potentially smaller, and fits seamlessly with the fork and the one piece carbon bar and stem. Elsewhere, the seat post looks slightly different, too and appears to have a cap that presumably hides the adjustment bold.
Thank you for reading 20 articles this month* Join now for unlimited access
Enjoy your first month for just £1 / $1 / €1
*Read 5 free articles per month without a subscription
Join now for unlimited access
Try first month for just £1 / $1 / €1