Six anxiety inducing Strava afflictions (and how to fix some of them)
First up: if your computer has just eaten your ride, we're sorry, but we probably can't magic the file back for you. But we've got some other tips...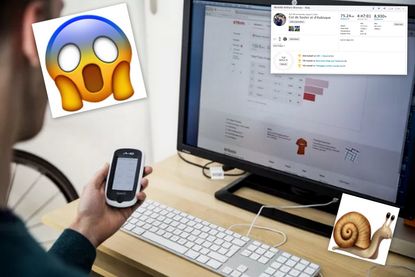 (Image credit: Picasa)
Get The Leadout Newsletter
The latest race content, interviews, features, reviews and expert buying guides, direct to your inbox!
Thank you for signing up to The Pick. You will receive a verification email shortly.
There was a problem. Please refresh the page and try again.
It all started out as harmless fun - but then some of the most dangerous addictions do. Strava addicts will know that there are few things worse than the ride and run sharing website displaying a technical hitch - except perhaps your own device suffering a blip that means it's just you that's affected.
>>> Strava: everything you need to know
No one likes coming home from a gut busting ride, only to discover that the stats reported to the watching world (N.B. they're not actually watching unless you're Chris Froome) do not match up to expectation.
Here are some of the biggest Strava disappointments, and how to fix them...
Strava is down
The inspiration behind this very article. Strava devotees of the highest level may have noticed that at approximately 10:24am on Friday, February 2 2018, Strava was out of action. Not working. Down. Incapacitated.
This is an anxiety inducing situation of the highest level. Unfortunately, the only solution is to wait for God the Strava tech guys to sort it out.
Unexpected elevation slash
You completed the same ride, but you've logged fewer feet/metres of climbing than your friend? Quelle horreur!
This light hearted list is about to get a bit tekkerz.
Cycling computers establish altitude using barometric altimeters which measure atmospheric pressure. A range of factors can affect the accuracy of these techy little wonders, including the location of the barometric altimeter on the device, where the device is mounted on the bike, weather conditions, road traffic and if you're riding in a group.
If you upload a ride from your cycling computer, to Strava, it'll default to using this data, which could vary from your friend's data for the reasons listed.
>>> Strava privacy settings explained
Strava, by comparison, uses a basemap. The basemap is created from a tapestry of data from user uploads. But their accuracy is affected by the reliability of the data for the region where you're riding.
The end result is we're all getting slightly different data. If this upsets you, you've got two options: 1) click the little blue '?' under elevation in Strava, this will revert to using the basemap, and your climbing figure will probably go up 2) ensure you're getting the most supreme data by setting your elevation using a known distance above sea level, before every ride.
GPS signal off course over life affirming segment
You arrive home from a ride during which you KNOW you covered a converted segment. Indeed, the ache in your legs and distinctive 'track cough' you've developed ever since implies you should have a new Queenie/KOM in the cabinet.
Yet - on uploading - it transpires that the segment has been maliciously stolen from you. Indeed, a closer look at the file suggests that you rode up to the segment, hopped off your bike, ran around the local park in a squiggle (crashing through some trees or houses on your way) then got back on to continue your ride with nonchalance.
>>> Top five Strava cheats
'Bad data' is what happens when a GPS signal gets munched somewhere between the device and its corresponding satellite. It can happen for tons of reasons, but dense tree cover, very steep mountains or tall buildings can contribute.
Once you've got bad data, it can be quite tricky to get rid of it. You used to be able to correct these mishaps on 'raceshape.com' - but then Strava bought it, and it's no more.
Prevention is better than cure. Though there will always be some room for error, Strava suggests you take preventative measures such as ensuring your device is well mounted (eg. not in your pocket) and giving it enough time to find satellites before you start your ride. Avoiding dense tree cover and tall buildings is also recommended but we reckon that sounds far too much like letting the tail wag the dog.
Average speed has been sabotaged
Losing 0.2mph might seem like nothing, but it certainly matters when you were bang on target, only to be thrust down from 20mph to 19.8mph through no fault of your own. Why, if your screen had read 0.2mph lower whilst you were out, you might have pushed that little bit harder.
There's a couple of causes.
1) Bad GPS data - part of your ride has been deemed 'bad' and thus excluded from the overall total, which is good news if it was a slow bit and bad news if it was fast.
2) You've not got autopause on, so you're recording sections of your ride where you were stationary or slowly creeping forwards whilst doing your best impersonation of a track stand.
Again - preventions beats cure - there's not much you can do about bad data, but you can turn autopause on. If you know you're going to be climbing some very steep inclines, set your threshold pace a little lower, same if you're heading off-road.
When phone apps don't just get along
Using phones instead of dedicated cycling computers has become very common, and there's a host of excellent phone cases which can keep your device safe through rain, crashes, and other bike-related-abuse.
Your phone is a little more concerned with battery life though, so if you stop, it'll first autopause (just like a cycling computer would), and then if you stay put for longer, it'll cease to record GPS. Fixing this is simple, just re-open the app and continue as you left off.
More irritating is that some phones can only operate one GPS app at a time. For example, you can't record, and upload a geo-tagged photo to Instagram all at the same time. The solution is to always be vigilant in ensuring your Strava app is busy running whenever you're riding. In practice, it's easy to forget.
Cycling computer has eaten ride file
Possibly the worst affliction known to human kind. Absolute and total ride loss.
Corrupt .FIT files are near impossible to retrieve. They can happen if your computer froze, tried to software update, or otherwise balked before the ride was saved.
That's pretty much all there is to it. There is a small amount of hope - sometimes the date settings get messed up, and you may actually find your ride back dated to the year 2000, in which case you can fix it quite easily.
When it comes to avoiding these problems arising, looking after your unit - completing software updates when promoted and clearing history once every few weeks - are good places to start.
Thank you for reading 20 articles this month* Join now for unlimited access
Enjoy your first month for just £1 / $1 / €1
*Read 5 free articles per month without a subscription
Join now for unlimited access
Try first month for just £1 / $1 / €1
Get The Leadout Newsletter
The latest race content, interviews, features, reviews and expert buying guides, direct to your inbox!
Michelle Arthurs-Brennan is a traditional journalist by trade, having begun her career working for a local newspaper, where highlights included interviewing a very irate Freddie Star (and an even more irate theatre owner), as well as 'the one about the stolen chickens'.
Previous to joining the Cycling Weekly team, Michelle was Editor at Total Women's Cycling. She joined CW as an 'SEO Analyst', but couldn't keep her nose out of journalism and in the spreadsheets, eventually taking on the role of Tech Editor before her latest appointment as Digital Editor.
Michelle is a road racer who also enjoys track riding and the occasional time trial, though dabbles in off-road riding too (either on a mountain bike, or a 'gravel bike'). She is passionate about supporting grassroots women's racing and founded the women's road race team 1904rt.