Two new kangaroo leather shoe models from Vittoria
Italian cycling shoe maker adds five new models to its 2017 range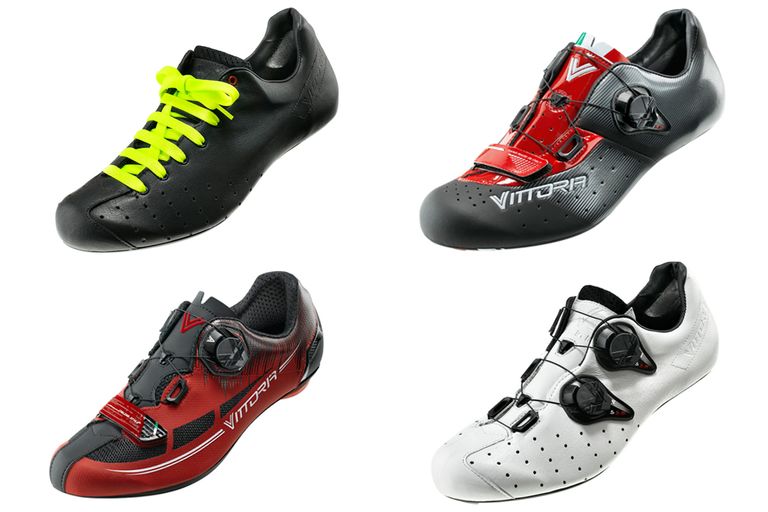 The Vittoria in question makes cycling shoes and helmets, as distinct from the Italian tyre manufacturer of the same name. It's just announced details of its new 2017 range, which includes two high-end shoes made of kangaroo leather.
The Legend is a lace-up shoe and sits on a carbon sole. It's available in three bolt and four bolt Speedplay variants and sizes from 40 to 48, including half sizes up to 45.5. The uppers include additional nylon mesh support and the shoe comes in white with green laces as well as black with yellow. Claimed weight is 512g for a pair in size 41.
>>> Cycling shoe buyer's guide
If you prefer a more high tech fastening system, the La Tecnica shoe includes twin SSP micrometric wire-based fasteners. There's a flip-up release lever built in. It too is made of kangaroo leather on a carbon sole and comes in black or white. Size range and weight are the same as the Legend too.
>>> Coolest new cycling shoes for 2017 (video)
With synthetic uppers, Vittoria says that the new Eclipse model is a lightweight shoe designed for racing, with a claimed weight of 518g for a pair of size 42s. There's a microfiber upper with a single wire closure and a Velcro strap. It sits on a carbon sole and comes in sizes from 38 to 48, with half sizes up to 45.5 and as with the Legend and La Tecnica is available for Speedplay cleats too.
>>> Leg warmer and knee warmer buyer's guide
Also new, the Fusion shoe is, according to Vittoria, good for both higher level and amateur riding. It has a ventilated nylon mesh upper with dialled wire and Velcro closures and sits on a carbon composite nylon sole unit.
Watch: How to fit your Speedplay cleats
Finally, the Zoom has ratchet and Velcro fastenings and a nylon sole and is made of water repellent synthetic leather.
More info on Vittoria's website. Prices are not yet available from UK distributor Chicken Cycles.