Wiggle launches own-brand Cosine wheel range
The six model Cosine wheel range runs from 55mm deep carbon clinchers through to value aluminium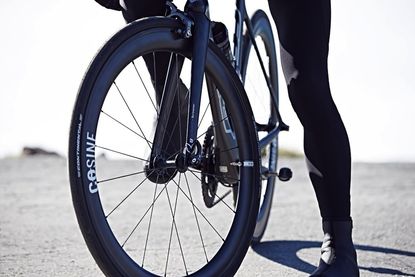 Three carbon clinchers
Wiggle is taking on the named brands with its new wheel range. Top of the tree is its range of three carbon clinchers, all of which retail at £600. As is the design trend, they all have wider rim sections with 23.4mm outside and 19mm inside width and come with rounded profiles.
They differ in rim depth though, with the deepest being the 55mm deep rims which weigh a claimed 1775 grams. The wheelset is aimed at racing, time trials and triathlon riders.
Watch Cycling Weekly's guide to bike wheels
Next size down is the 45mm deep section. With a claimed weight of 1700 grams, Wiggle pitches this wheelset as more of an all-rounder, good for sportives and distance riding. Finally there's a 30mm deep profile weighing 1580 grams. This is claimed to provide quick acceleration for sprints and be good for climbing. Availability of carbon wheels is expected from 19 November.
>> Do you need deep section wheels?
Wiggle (opens in new tab) says that the Cosine's braking surface is durable and heat-resistant and supplies the wheels with carbon-specific brake pads. The hubs are alloy with sealed cartridge bearings and the wheels are built up with 20 front and 24 rear Sapim CX Delta spokes with DT nipples.
Three alloy wheelsets too
The alloy range starts off with a 32mm deep, 21.5mm wide wheelset which weighs 1485 grams and retails at £250. Next down the range is a disc wheelset priced at £180, with a 23mm deep profile an asymmetric profile and 24mm width.
The hubs are 6-bolt disc compatible with the wheels being designed for cyclocross and gravel bikes or for all-weather commuting. Finishing off the new range is a 24mm deep, 21mm wide alloy wheelset, priced at £70.
All use black stainless steel spokes, with the non-disc wheels having 20 front and 24 rear, while the disc wheelset has 24 front and rear. Alone among Cosine's offerings the 32mm alloy wheelset is tubeless ready.
And Lifeline tyres
At the same time, LifeLine – another of Wiggle's in-house brands – has announced a line of tyres. This starts with a 235 gram 60 threads per inch folding tyre available in 23mm and 25mm widths and priced at £10.
For £16, the Prime Race tyre ups the thread count to 120tpi, drops the weight to a claimed 219 grams for a 23mm and adds a Kevlar puncture protection belt. At the same price, the Prime Armour tyre ups the weight to 285 grams and adds extra puncture protection with a bead-to-bead casing as well as the Kevlar belt.
>>> Buyer's guide to road bike tyres (video)
LifeLine also offers a commuter tyre in 26 inch and 700c sizes for £15 and a more armoured version with extra protection in 700c only for £18.
Thank you for reading 5 articles this month* Join now for unlimited access
Enjoy your first month for just £1 / $1 / €1
*Read 5 free articles per month without a subscription
Join now for unlimited access
Try first month for just £1 / $1 / €1