Alex Dowsett wins British elite men's time trial title for a fifth time
Essex man Alex Dowsett successfully defended his British national time trial title in Stockton-on-Tees by a significant margin - Photos by Andy Jones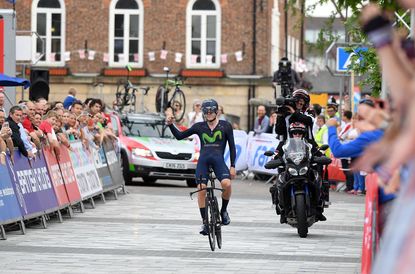 Celebration time! The moment @alexdowsett made history with a record fifth elite men's time trial title! #RoadChamps https://t.co/1k7011YHAs
— British Cycling (@BritishCycling) June 23, 2016
Alex Dowsett (Movistar) won the elite men's race at the 2016 British time trial national championships in Stockton-on-Tees on Thursday evening.
It's the Essex rider's fifth national TT title, having won it between 2011-13 and 2015 - Bradley Wiggins won it in 2014.
Dowsett clocked 55-38.523 on the 46.4km (28.8 miles) course to beat second-placed James Gullen (Pedal Heaven) by one minute and 16 seconds.
>>> British national time trial preview and start lists
Ryan Perry (Langdale Lightweights) placed third.
There were a few notable non-starters in the event, which reduced the field to just 34 riders. Last year's runner-up and pre-race favourite for another medal, Ed Bradbury was absent, as were Team GB track pursuiters Owain Doull and Steven Burke. George Atkins, Mark Christian and Dan McLay were also listed as non-starters.
Dowsett is currently on Movistar's long list for the Tour de France, where he is hoping to be picked for the final nine riders and contest the race's time trial stages in the jersey of British national champion.
Earlier in the day, Scott Davies (Team Wiggins) took the under-23 men's title and Hayley Simmonds (Aerocoach) defended her elite women's crown.
The British road national championships continue on Sunday June 26 with the road race events.
>>> Where to watch the British national champs (TV guide)
British time trial national championships 2016: Elite men
1. Alex Dowsett (Movistar) in 55-38.523
2. James Gullen (Pedal Heaven) in 56-54.83
3. Ryan Perry (Langdale Lightweights) in 57-52.53
4. Peter Williams (One Pro Cycling) in 58-15.36
5. Richard Handley (One Pro Cycling) in 59-09.39
6. Samuel Harrison (Team Wiggins) in 59-11.87
7. Lloyd Chapman (Pedal Heaven) in 59-36.73
8. Ashley Cox (CC Luton) in 59-45.70
9. Andrew Tennant (Team Wiggins) in 59-59.87
10. Rhys Howells (Richardsons-Trek) in 1-00-4.48
Thank you for reading 20 articles this month* Join now for unlimited access
Enjoy your first month for just £1 / $1 / €1
*Read 5 free articles per month without a subscription
Join now for unlimited access
Try first month for just £1 / $1 / €1