CTT introduces National Ranking System to discourage riders from 'PB chasing and fast courses'
New system developed to provide riders with season long targets, outside of time based personal best results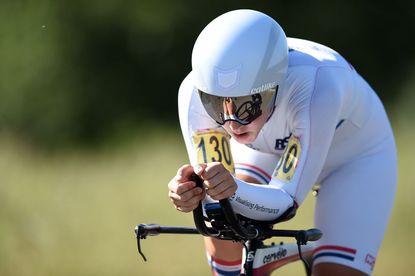 (Image credit: Andy Jones)
The national body for governing time trialling in the UK has released a new national ranking system designed to provide athletes with targets based on finishing position, as opposed to times.
Cycling Time Trials (CTT) set the system live on Monday March 5; several years after proposals were first discussed in 2014 and following one year of trials via a 'ghost' launch.
>>> How to get into time trialling
"[The goal was] to develop a simple system for a national, annual ranking of competitors, by ability, intended to offer potential season long targets for riders, based on finishing positions rather than times," said the CTT.
Cycling Weekly columnist and multiple National Time Trial Champion Michael Hutchinson was involved in the early working group - though not in the final stages of development.
"I think one of the reasons there was an interest in [launching the ranking system was that] the circuit series - though a perfectly good series - didn't ever do quite what is was designed to do: take the emphasis away from PB chasing and fast courses," he said.
"CTT [is] aware that they have a bit of an issue with such reliance on fast courses. The V718 thing going on at the minute sits right in the middle of it - everyone's throwing their arms up at the thought that they're going to lose the fastest 10 course in the country.
"There's an enormous variation in the number of people who do different events. [The group was quite keen] to stop the current trend which is that if you run an event on the V718, 500 people enter, and if you run a local event, 35 people enter. The ranking system should support smaller events, on quieter roads."
>>> How to set a 10-mile time trial PB – experts reveal their top tips
How does the National Ranking System work?
Rankings can be found on the CTT website by selecting "Competitions > Rankings > Ranking Results".
Like British Cycling's rider categorisation system, points will be allocated to riders based upon finishing position. Though in this case, the winner will receive 150 points, with remaining points "allocated dependant on number of entries. If there are fewer than 150 riders, points will be distributed evenly."
As an example, if the current male leader won an event with 20 riders, he would receive 150 points and the 20th rider would receive 7.5 points. If there had been 150 riders, the winner would still have got 150 points and the rider in 150th place would have got one.
National events and events included in the Knight Composite Circuit Series will have an increased allocation, with the winner getting 165 points thanks to "the incorporation of a multiplier of 1.1" - though the CTT adds "this multiplier can be amended (increased or deleted) if considered appropriate."
Female positioning will be included in the overall allocation, except where it's a women's only event, where riders will get the full allocation. Points will be collected from a competitors top 12 placings.
The mathematics might all sound a bit convoluted, but Hutchinson added: "This is much simpler than the initial proposals, which were based on the chess ranking system - so points would be allocated based on the points all the people you were racing against had."
The system the committee eventually settled on rewards those entering smaller events, and arguably women who enter events with larger women's fields - such as those included in external series like the London Women's Racing TT series.
"The really fundamental question is 'who do you want to win it?'," Hutchinson added.
"Do you want it to be someone who just enters two events every weekend, all season, and is a complete stalwart of the sport, who probably when they go to the National Championships would be lucky to scrape a top 30?
"Or do you want it to be the same guy who wins the National 25? What they've tried to do is pitch somewhere in between, so what they'll find is a good rider who would be a national level rider, who really supports time trialling,"
Regarding the decision to keep the women's ranking within the overall field - he said: "The lack of women's competition was talked about a lot in the working group... [the option the committee chose to pursue is one that] would reward women who performed well against the whole field; you can either judge it against a relatively small field of women, or you can judge it against a background of the larger number of male competitors... you could argue it either way but that seems to have been their decision."
Not all riders are convinced that the system will prove effective however.
Alice Lethbridge, 2017 CTT BBAR (British Best All Rounder) winner, 100-mile and 12-hour record holder has some questions around the system, saying: "National events have not been given nearly enough weighting, and you can't have a mixed system where sometimes women get points separately to men and sometimes they don't.
"[I also think] 12 events is also far too high - you could have someone winning six nationals but not getting ranked at all!"
Speaking on behalf of the CTT, director Gavin Russell told us: The new ranking system... will hopefully promote riders to support more local events and save on travelling to fast courses... It is hoped that initiatives like the ranking system will encourage younger persons to participate in time trials, as it is not about fast dual carriageway courses and personal bests, but is based on your position in the final result, something they may be more used to in other cycling disciplines.
"Initial reaction has been generally positive, with a number of riders providing positive feedback, together for suggestions for future development, something Cycling Time Trials actively encouraged. Overall, from feedback received to date, there does not appear to be anyone against it, but a number have put forward ideas which will be considered in the future development of the newly introduced system."
The CTT is keen to receive feedback on the ranking system - all of which will be acknowledged and considered. Feedback can be sent to ranking@cyclingtimetrials.org.uk.
Thank you for reading 20 articles this month* Join now for unlimited access
Enjoy your first month for just £1 / $1 / €1
*Read 5 free articles per month without a subscription
Join now for unlimited access
Try first month for just £1 / $1 / €1