Chinese rider who launched shocking attack on rival team staff receives two-year ban (video)
Keyi Look team also suspended for 2018 season after incident at Tour of Hainan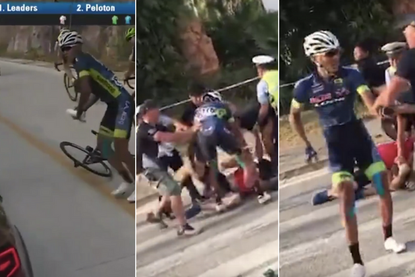 A Chinese cyclist has been banned for two years by his national federation after launching a shocking attack on staff members from a rival team at the Tour of Hainan.
Wang Xin and his Keyi Look team were thrown out of the race on Monday after footage emerged of Wang attacking staff members of the Swiss national team, who he accused of causing him to crash during the race.
Now the Chinese Cycling Association (CCA) has decided to issue bans for Wang, three members of team staff, and the Keyi Look team as a whole for an incident which it described as "irrational violence".
>>> Top six cycling punch-ups (videos)
Wang will be banned from all cycling for six months, and will not be able to ride for a professional team for two years. Team doctor Zhang Ya and masseur Fan Yunlong have also received bans for their parts in the attack, as has team manager Han Feng, who, although not directly involved in the incident, the CCA said had failed to control his rider and staff.
The continental-level Keyi Look team as a whole has also been punished, with the team being banned from competition for the entirety of the 2018 season. Any appeals against the punishment must be made with the CCA within 10 days.
The incident took place after stage seven of the 2.HC-level Tour of Hainan on Monday, when Wang was angered after failing to receive an apology after claiming he was knocked off his bike by a car driven by the Swiss national team.
>>> Watch: Cyclocross riders disqualified after mid-race fight
Swiss manager Danilo Hondo denied that there had been any contact between the team car and Wang, and said that the team had tried to apologise for any misunderstandings before Wang launched his violent attack.
Video footage shows the rider kicking one member of the Swiss team staff, before throwing his water bottle at another and reaching for a track pump from the boot of his own team car, apparently to use as a weapon.
Wang and the Keyi Look team apologised for the incident, but have not yet said whether they will appeal against the CCA's decision.
Thank you for reading 20 articles this month* Join now for unlimited access
Enjoy your first month for just £1 / $1 / €1
*Read 5 free articles per month without a subscription
Join now for unlimited access
Try first month for just £1 / $1 / €1