European Road Championships 2019: routes, TV schedule and riders to watch
The European championships for 2019 start on August 7 and take place in Alkmaar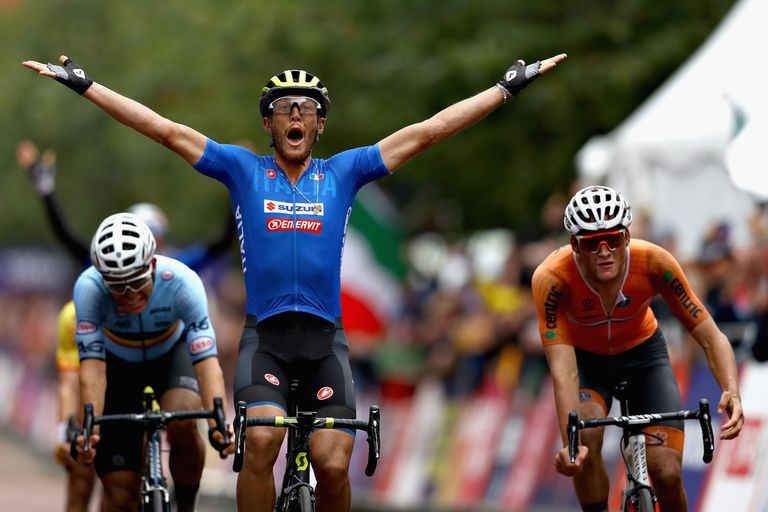 (Image credit: Getty Images)
The European Championships will see some of the world's best road cyclists visit Alkmaar, the Netherlands in the summer of 2019.
The road events will take place between Wednesday August 7 and Sunday August 11, with time trial and road race events for the junior men and women, U23 men and women and elite men and women. There will also be the first mixed relay team time trial event, which will see men and women team up in the same competition for the first time.
>>> Yorkshire UCI Road World Championships 2019: routes and more
European Road Championships routes
The routes for the 2019 European Championships are generally flat, taking place on circuits within Alkmaar. The elite men will take on a big loop of 46.16km before completing 11 laps of a final circuit of 11.5km, totalling 172.6km.
All the other road races will take place on the 11km city circuit only, with the women completing 10 laps in their 115km race. Distances of the other races are listed in the schedule section below.
For the time trials, all races will be the same distance and on the same circuit of 22.4km. The mixed relay will also take place on the circuit, however teams will complete two laps for a total off 44.8km.
The course is relatively untechnical and flat, meaning it will suit the heavier, pure power time triallists.
European Road Championships Schedule
All time in CET (subtract one hour for BST)
Wednesday, August 7
09:00 – 10:30 Junior Women's Time Trial 22,4 km
11:15 – 12:45 Junior Men's Time Trial 22,4 km
14:30 – 16:30 Mixed Relay 44,8 km
Thursday, August 8
09:00 – 10:15 U23 Women's Time Trial 22,4 km
10:45 – 12:00 Elite Women's Time Trial 22,4 km
12:45 – 14:15 U23 Men's Time Trial 22,4 km
15:00 – 16:30 Elite Men's Time Trial 22,4 km
Friday, August 9
09:00 – 11:00 Junior Women's Road Race (6 laps X 11,5 km) 69,0 km
12:00 – 15:00 U23 Women's Road Race (8 laps X 11,5 km) 92,0 km
16:00 – 19:00 Junior Men's Road Race (10 laps X 11,5 km) 115,0 km
Saturday, August 10
09:00 – 12:15 U23 Men's Road Race (12 laps X 11,5 km) 138,0 km
13:00 – 16:00 Elite Women's Road Race (10 laps X 11,5 km) 115,0 km
Sunday, August 11,
11:30 –16:00 Men's Road Race (1 big loop of 46,16 + 11 laps X 11,5 km) 172,6 km
Watching the European Championships on TV
In the UK, Eurosport will be showing coverage of the races throughout the week, with some events only on the Eurosport Player subscription service. All of day one and day three's events will be shown live on the Eurosport Player only.
Thursday August 8
9:45 - 11.00, Elite Women's Time Trial, Eurosport 1
14:00 - 15:30, Elite Men's Time Trial, Eurosport 1
Saturday August 10
13:30 - 15:00, Elite Women's Road Race, Eurosport 1
Sunday August 11
13:00 - 15:00, Elite Men's Road Race, Eurosport 1
European Road Championships riders to watch
The men's road race looks set to have a strong line-up of sprinters, with defending champion Matteo Trentin (Italy) set to ride against the likes of Sam Bennett (Ireland), Pascal Ackermann (Germany), Mark Cavendish (Great Britain), Alexander Kristoff (Norway) and Arnaud Démare (France) in a stacked field.
The elite women's road race will be similarly competitive, with last year's winner Marta Bastianelli (Italy) facing a probably sprint finish against a strong Dutch team containing Marianne Vos, Ellen van Dijk, Kirsten Wild and Lorena Wiebes. Former world champion Amalie Dideriksen (Denmark) will also ride, as will Lisa Brennauer and Trixi Worrak of Germany and Alice and Hannah Barnes of Great Britain.
Yves Lampaert and Remco Evenepoel of Belgium will be tough opponents in the men's elite time trial, with Jos van Emden (Netherlands), Filippo Ganna (Italy), Ryan Mullen (Ireland), Alex Dowsett (Great Britain) and Stefan Küng (Switzerland) all taking part. Defending champion Victor Campenarts (Belgium) won't take part.
For the women, defending champion Ellen van Dijk (Netherlands) will ride in her home Championships, and will face a challenge to retain her title from the likes of Elisa Longoborghini (Italy), Lisa Brennauer (Germany), Hannah Barnes (Great Britain) and Ann Sophie Duyck (Belgium).
British Cycling's road and time trial selections
The confirmed road race rosters include the likes of former world champion Mark Cavendish and British national champion Alice Barnes.
In the TT, former national champion Hayley Simmonds represents the women along with Alice Barnes, whilst the men's national champion Alex Dowsett will be the sole representative for Great Britain.
Under-23 women – road race
Rhona Callander
Pfeiffer Georgi
Elizabeth Holden
Under-23 women – time trial
Anna Henderson
Elizabeth Holden
Under-23 men – road race
Jim Brown
Joe Nally
Will Tidball
Ethan Vernon
Matt Walls
Fred Wright
Under-23 men – time trial
Charlie Quarterman
Ethan Vernon
Elite women – road race
Alice Barnes
Hannah Barnes
Anna Henderson
Nicola Juniper
Hayley Simmonds
Elite women – time trial
Alice Barnes
Hayley Simmonds
Elite men – road race
Adam Blythe
Mark Cavendish
Gabriel Cullaigh
Alex Dowsett
Chris Lawless
Dan McLay
Luke Rowe
Connor Swift
Elite men – time trial
Alex Dowsett
Former European Champions
2018:
Road: Marta Bastianelli (Italy) & Matteo Trentin (Italy)
Time trial: Ellen van Dijk (Netherlands) & Victor Campenaerts (Belgium)
2017:
Road: Marianne Vos (Netherlands) & Alexander Kristoff (Norway)
Time Trial: Ellen van Dijk (Netherlands) & Victor Campenaerts (Belgium)
2016:
Road: Anna van der Breggen (Netherlands) & Peter Sagan (Slovakia)
Time Trial: Ellen van Dijk (Netherlands) & Jonathan Castroviejo (Spain)