Chris Froome hints at Giro d'Italia ride after 2017 route is leaked
The Briton hasn't ridden the Italian Grand Tour since he was disqualified in 2010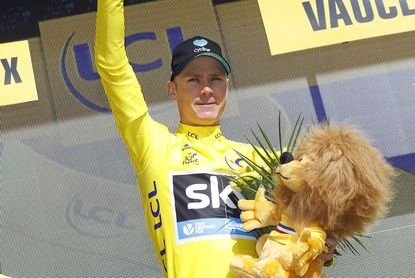 (Image credit: Watson)
Having returned from his holidays and now back with Team Sky in their pre-season October camp, Chris Froome has hinted he might be interested in a ride at the Giro d'Italia next year after the route was leaked on Monday night.
The official Giro d'Italia 2017 route will be revealed by organiser RCS on Tuesday in Milan, but it is likely to feature more time trial kilometres than the Tour de France's total of 36km, including a time trial on the final day to Milan.
>>> Tour de France 2017 route revealed
That revelation could tempt defending Tour champion Froome, who proved how vital his capabilities against the clock are after making up a heap of time against pure climber Nairo Quintana (Movistar) when they battled it out for the Vuelta a España title earlier this year.
Froome tweeted on Monday night that he was loving the look of the route.
The first time trial of the Giro 2017 comes on stage 10, and outdoes both Tour time trials with its distance of 39.2km. That is then followed with a race of truth on the final day over 28km; a rare feature in recent Grand Tours that will see the fight for pink go to the very end of the race.
31-year-old Froome hinted at a possible Giro tilt in 2015, but that never surfaced, as he focussed on regaining his Tour crown which he then successfully defended in 2016.
His last appearance at the race came in 2010, but he was disqualified on stage 19 of the race after being spotted holding onto a police motorbike on the Mortirolo Pass.
It remains to be seen whether Froome will be tempted into an attempt at a Giro/Tour double, with Sky unlikely to want their star rider and the defending champion to miss the world's biggest bike race in July.
Thank you for reading 20 articles this month* Join now for unlimited access
Enjoy your first month for just £1 / $1 / €1
*Read 5 free articles per month without a subscription
Join now for unlimited access
Try first month for just £1 / $1 / €1