Giro d'Italia stage one time trial start order
Full list of start times for the opening time trial stage of the 2016 Giro d'Italia on Friday, May 6, in Apeldoorn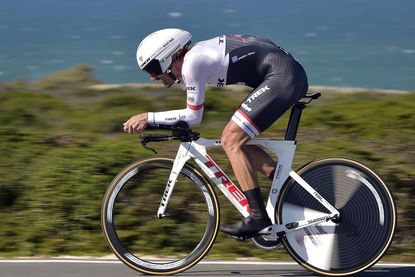 (Image credit: Watson)
Get The Leadout Newsletter
The latest race content, interviews, features, reviews and expert buying guides, direct to your inbox!
Thank you for signing up to The Pick. You will receive a verification email shortly.
There was a problem. Please refresh the page and try again.
The full list of start times has been published for the opening individual time trial stage of the 2016 Giro d'Italia.
All 198 riders will tackle a pan-flat 9.8-kilometre test against the clock in Apeldoorn, the Netherlands, on Friday May 6.
Italian Fabio Sabatini (Etixx-QuickStep) is the first rider off at 1.45pm local time, and the last rider off is Australian Michael Hepburn (Orica-GreenEdge) at 5.02pm.
Winner of the stage will earn the right to be the first rider of the 2016 race to wear the coveted maglia rosa of race leader.
>>> Giro d'Italia 2016 stage one full preview
Giro d'Italia 2016 stage one start times
Note: To convert to UK time, subtract an hour.
Swipe to scroll horizontally
| | | | | |
| --- | --- | --- | --- | --- |
| Time | Race no. | Name | Nation | Team |
| 13.45'00" | 65 | SABATINI Fabio | ITA | EQS |
| 13.46'00" | 28 | MAESTRI Mirco | ITA | BAR |
| 13.47'00" | 53 | JIM Songezo | RSA | DDD |
| 13.48'00" | 165 | VOROBYEV Anton | RUS | KAT |
| 13.49'00" | 6 | HOULE Hugo | CAN | ALM |
| 13.50'00" | 186 | KNEES Christian | GER | SKY |
| 13.51'00" | 158 | STAMSNIJDER Tom | NED | TGA |
| 13.52'00" | 124 | HERRADA LOPEZ José | ESP | MOV |
| 13.53'00" | 194 | HERNANDEZ Jesus | ESP | TNK |
| 13.54'00" | 114 | GREIPEL André | GER | LTS |
| 13.55'00" | 216 | RODRIGUEZ Cristian | ESP | STH |
| 13.56'00" | 136 | FILOSI Iuri | ITA | NIP |
| 13.57'00" | 173 | HOFLAND Moreno | NED | TLJ |
| 13.58'00" | 99 | LAENGEN Vegard Stake | NOR | IAM |
| 13.59'00" | 48 | BETTIOL Alberto | ITA | CPT |
| 14.00'00" | 19 | ZEITS Andrey | KAZ | AST |
| 14.01'00" | 73 | DELAGE Mickael | FRA | FDJ |
| 14.02'00" | 33 | DE MARCHI Alessandro | ITA | BMC |
| 14.03'00" | 82 | RYBALKIN Aleksey | RUS | GAZ |
| 14.04'00" | 101 | CONTI Valerio | ITA | LAM |
| 14.05'00" | 206 | DIDIER Laurent | LUX | TFS |
| 14.06'00" | 148 | TUFT Svein | CAN | OGE |
| 14.07'00" | 67 | TRENTIN Matteo | ITA | EQS |
| 14.08'00" | 26 | CICCONE Giulio | ITA | BAR |
| 14.09'00" | 58 | VAN ZYL Johann | RSA | DDD |
| 14.10'00" | 169 | TCATEVITCH Alexey | RUS | KAT |
| 14.11'00" | 7 | KADRI Blel | FRA | ALM |
| 14.12'00" | 187 | LOPEZ GARCIA David | ESP | SKY |
| 14.13'00" | 159 | TIMMER Albert | NED | TGA |
| 14.14'00" | 128 | SÜTTERLIN Jasha | GER | MOV |
| 14.15'00" | 197 | ROVNY Ivan | RUS | TNK |
| 14.16'00" | 119 | VANENDERT Jelle | BEL | LTS |
| 14.17'00" | 212 | AMEZQUETA Julen | ESP | STH |
| 14.18'00" | 139 | ZILIOLI Gianfranco | ITA | NIP |
| 14.19'00" | 174 | CASTELIJNS Twan | NED | TLJ |
| 14.20'00" | 92 | BRANDLE Matthias | AUT | IAM |
| 14.21'00" | 42 | CARDOSO Andre Fernando S | POR | CPT |
| 14.22'00" | 15 | KANGERT Tanel | EST | AST |
| 14.23'00" | 71 | DEMARE Arnaud | FRA | FDJ |
| 14.24'00" | 36 | OSS Daniel | ITA | BMC |
| 14.25'00" | 85 | FOLIFOROV Alexander | RUS | GAZ |
| 14.26'00" | 102 | FERRARI Roberto | ITA | LAM |
| 14.27'00" | 201 | HESJEDAL Ryder | CAN | TFS |
| 14.28'00" | 147 | PLAZA MOLINA Ruben | ESP | OGE |
| 14.29'00" | 69 | WISNIOWSKI Lukasz | POL | EQS |
| 14.30'00" | 29 | RUFFONI Nicola | ITA | BAR |
| 14.31'00" | 57 | THOMSON Jay Robert | RSA | DDD |
| 14.32'00" | 168 | TAARAMAE Rein | EST | KAT |
| 14.33'00" | 9 | PERAUD Jean Christophe | FRA | ALM |
| 14.34'00" | 182 | BOSWELL Ian | USA | SKY |
| 14.35'00" | 156 | LUDVIGSSON Tobias | SWE | TGA |
| 14.36'00" | 127 | SUTHERLAND Rory | AUS | MOV |
| 14.37'00" | 198 | PETROV Evgeny | RUS | TNK |
| 14.38'00" | 112 | BAK Lars Ytting | DEN | LTS |
| 14.39'00" | 219 | ZHUPA Eugert | ALB | STH |
| 14.40'00" | 134 | BOLE Grega | SLO | NIP |
| 14.41'00" | 177 | TANKINK Bram | NED | TLJ |
| 14.42'00" | 91 | HAUSSLER Heinrich | AUS | IAM |
| 14.43'00" | 49 | BROWN Nathan | USA | CPT |
| 14.44'00" | 17 | MALACARNE Davide | ITA | AST |
| 14.45'00" | 78 | SARREAU Marc | FRA | FDJ |
| 14.46'00" | 32 | ATAPUMA Darwin | COL | BMC |
| 14.47'00" | 89 | SOLOMENNIKOV Andrey | RUS | GAZ |
| 14.48'00" | 105 | MOHORIC Matej | SLO | LAM |
| 14.49'00" | 205 | COLEDAN Marco | ITA | TFS |
| 14.50'00" | 149 | TXURRUKA Amets | ESP | OGE |
| 14.51'00" | 62 | BRAMBILLA Gianluca | ITA | EQS |
| 14.52'00" | 22 | ANDREETTA Simone | ITA | BAR |
| 14.53'00" | 55 | SBARAGLI Kristian | ITA | DDD |
| 14.54'00" | 167 | SILIN Egor | RUS | KAT |
| 14.55'00" | 4 | DUPONT Hubert | FRA | ALM |
| 14.56'00" | 183 | DEIGNAN Philip | IRL | SKY |
| 14.57'00" | 155 | JI Cheng | CHN | TGA |
| 14.58'00" | 126 | ROJAS GIL Jose Joaquin | ESP | MOV |
| 14.59'00" | 199 | TOSATTO Matteo | ITA | TNK |
| 15.00'00" | 115 | HANSEN Adam | AUS | LTS |
| 15.01'00" | 214 | BERTAZZO Liam | ITA | STH |
| 15.02'00" | 137 | GROSU Eduard Michael | ROU | NIP |
| 15.03'00" | 172 | BATTAGLIN Enrico | ITA | TLJ |
| 15.04'00" | 96 | DENIFL Stefan | AUT | IAM |
| 15.05'00" | 43 | CLARKE Simon | AUS | CPT |
| 15.06'00" | 12 | AGNOLI Valerio | ITA | AST |
| 15.07'00" | 75 | GENIEZ Alexandre | FRA | FDJ |
| 15.08'00" | 31 | SENNI Manuel | ITA | BMC |
| 15.09'00" | 81 | KOLOBNEV Alexandr | RUS | GAZ |
| 15.10'00" | 109 | PETILLI Simone | ITA | LAM |
| 15.11'00" | 202 | ALAFACI Eugenio | ITA | TFS |
| 15.12'00" | 146 | MEZGEC Luka | SLO | OGE |
| 15.13'00" | 66 | SERRY Pieter | BEL | EQS |
| 15.14'00" | 23 | SIMION Paolo | ITA | BAR |
| 15.15'00" | 52 | FRAILE MATARRANZ Omar | ESP | DDD |
| 15.16'00" | 166 | PORSEV Alexander | RUS | KAT |
| 15.17'00" | 5 | GRETSCH Patrick | GER | ALM |
| 15.18'00" | 184 | HENAO Sebastian | COL | SKY |
| 15.19'00" | 152 | ARNDT Nikias | GER | TGA |
| 15.20'00" | 125 | MORENO Javier | ESP | MOV |
| 15.21'00" | 196 | POLJANSKI Pawel | POL | TNK |
| 15.22'00" | 118 | ROELANDTS Jurgen | BEL | LTS |
| 15.23'00" | 218 | MARTINEZ Daniel | COL | STH |
| 15.24'00" | 133 | BISOLTI Alessandro | ITA | NIP |
| 15.25'00" | 178 | TJALLINGII Maarten | NED | TLJ |
| 15.26'00" | 95 | PELUCCHI Matteo | ITA | IAM |
| 15.27'00" | 47 | NAVARDAUSKAS Ramunas | LTU | CPT |
| 15.28'00" | 14 | FUGLSANG Jakob | DEN | AST |
| 15.29'00" | 72 | COURTEILLE Arnaud | FRA | FDJ |
| 15.30'00" | 39 | ZABEL Rick | GER | BMC |
| 15.31'00" | 83 | ERSHOV Artur | RUS | GAZ |
| 15.32'00" | 106 | MORI Manuele | ITA | LAM |
| 15.33'00" | 203 | BOBRIDGE Jack | AUS | TFS |
| 15.34'00" | 143 | EWAN Caleb | AUS | OGE |
| 15.35'00" | 68 | VERONA Carlos | ESP | EQS |
| 15.36'00" | 24 | BOEM Nicola | ITA | BAR |
| 15.37'00" | 59 | VENTER Jacobus | RSA | DDD |
| 15.38'00" | 164 | KUZNETSOV Viacheslav | RUS | KAT |
| 15.39'00" | 3 | DOMONT Axel | FRA | ALM |
| 15.40'00" | 185 | NIEVE Mikel | ESP | SKY |
| 15.41'00" | 157 | PREIDLER Georg | AUT | TGA |
| 15.42'00" | 123 | BETANCUR Carlos A. | COL | MOV |
| 15.43'00" | 193 | BRUTT Pavel | RUS | TNK |
| 15.44'00" | 113 | DE BIE Sean | BEL | LTS |
| 15.45'00" | 215 | BUSATO Matteo | ITA | STH |
| 15.46'00" | 138 | YAMAMOTO Genki | JPN | NIP |
| 15.47'00" | 175 | KEIZER Martijn | NED | TLJ |
| 15.48'00" | 93 | HOWARD Leigh | AUS | IAM |
| 15.49'00" | 44 | DOMBROWSKI Joseph Lloyd | USA | CPT |
| 15.50'00" | 13 | CAPECCHI Eros | ITA | AST |
| 15.51'00" | 77 | LE GAC Olivier | FRA | FDJ |
| 15.52'00" | 34 | DILLIER Silvan | SUI | BMC |
| 15.53'00" | 87 | SAVITSKIY Ivan | RUS | GAZ |
| 15.54'00" | 103 | KOSHEVOY Ilia | BLR | LAM |
| 15.55'00" | 208 | VAN POPPEL Boy | NED | TFS |
| 15.56'00" | 142 | BEWLEY Sam | NZL | OGE |
| 15.57'00" | 63 | DE LA CRUZ David | ESP | EQS |
| 15.58'00" | 25 | BONGIORNO Francesco Manuel | ITA | BAR |
| 15.59'00" | 51 | ANTON HERNANDEZ Igor | ESP | DDD |
| 16.00'00" | 163 | KOCHETKOV Pavel | RUS | KAT |
| 16.01'00" | 8 | MONTAGUTI Matteo | ITA | ALM |
| 16.02'00" | 188 | ROCHE Nicholas | IRL | SKY |
| 16.03'00" | 154 | HAGA Chad | USA | TGA |
| 16.04'00" | 129 | VISCONTI Giovanni | ITA | MOV |
| 16.05'00" | 195 | MCCARTHY Jay | AUS | TNK |
| 16.06'00" | 111 | WELLENS Tim | BEL | LTS |
| 16.07'00" | 213 | BELLETTI Manuel | ITA | STH |
| 16.08'00" | 135 | STACCHIOTTI Riccardo | ITA | NIP |
| 16.09'00" | 176 | ROGLIC Primoz | SLO | TLJ |
| 16.10'00" | 97 | WARBASSE Lawrence | USA | IAM |
| 16.11'00" | 46 | MOSER Moreno | ITA | CPT |
| 16.12'00" | 16 | KOZHATAYEV Bakhtiyar | KAZ | AST |
| 16.13'00" | 74 | FISCHER Murilo Antonio | BRA | FDJ |
| 16.14'00" | 38 | ROSSKOPF Joseph | USA | BMC |
| 16.15'00" | 88 | SEROV Alexander | RUS | GAZ |
| 16.16'00" | 107 | NIEMIEC Przemyslaw | POL | LAM |
| 16.17'00" | 209 | ZOIDL Riccardo | AUT | TFS |
| 16.18'00" | 145 | HOWSON Damien | AUS | OGE |
| 16.19'00" | 61 | KITTEL Marcel | GER | EQS |
| 16.20'00" | 21 | PIRAZZI Stefano | ITA | BAR |
| 16.21'00" | 54 | KUDUS GHEBREMEDHIN Merha | ERI | DDD |
| 16.22'00" | 162 | BELKOV Maxim | RUS | KAT |
| 16.23'00" | 2 | BONNAFOND Guillaume | FRA | ALM |
| 16.24'00" | 189 | VIVIANI Elia | ITA | SKY |
| 16.25'00" | 153 | DE BACKER Bert | BEL | TGA |
| 16.26'00" | 122 | AMADOR Andrey | CRC | MOV |
| 16.27'00" | 192 | BOARO Manuele | ITA | TNK |
| 16.28'00" | 117 | MONFORT Maxime | BEL | LTS |
| 16.29'00" | 217 | MARECZKO Jakub | ITA | STH |
| 16.30'00" | 132 | BERLATO Giacomo | ITA | NIP |
| 16.31'00" | 179 | VAN EMDEN Jos | NED | TLJ |
| 16.32'00" | 94 | KLUGE Roger | GER | IAM |
| 16.33'00" | 45 | FORMOLO Davide | ITA | CPT |
| 16.34'00" | 18 | SCARPONI Michele | ITA | AST |
| 16.35'00" | 79 | VAUGRENARD Benoit | FRA | FDJ |
| 16.36'00" | 37 | QUINZIATO Manuel | ITA | BMC |
| 16.37'00" | 86 | OVECHKIN Artem | RUS | GAZ |
| 16.38'00" | 104 | MODOLO Sacha | ITA | LAM |
| 16.39'00" | 207 | NIZZOLO Giacomo | ITA | TFS |
| 16.40'00" | 141 | CHAVES Esteban | COL | OGE |
| 16.41'00" | 64 | JUNGELS Bob | LUX | EQS |
| 16.42'00" | 27 | COLBRELLI Sonny | ITA | BAR |
| 16.43'00" | 56 | SIUTSOU Kanstantsin | BLR | DDD |
| 16.44'00" | 161 | ZAKARIN Ilnur | RUS | KAT |
| 16.45'00" | 1 | POZZOVIVO Domenico | ITA | ALM |
| 16.46'00" | 181 | LANDA Mikel | ESP | SKY |
| 16.47'00" | 151 | DUMOULIN Tom | NED | TGA |
| 16.48'00" | 121 | VALVERDE Alejandro | ESP | MOV |
| 16.49'00" | 191 | MAJKA Rafal | POL | TNK |
| 16.50'00" | 116 | LIGTHART Pim | NED | LTS |
| 16.51'00" | 211 | POZZATO Filippo | ITA | STH |
| 16.52'00" | 131 | CUNEGO Damiano | ITA | NIP |
| 16.53'00" | 171 | KRUIJSWIJK Steven | NED | TLJ |
| 16.54'00" | 98 | WYSS Marcel | SUI | IAM |
| 16.55'00" | 41 | URAN URAN Rigoberto | COL | CPT |
| 16.56'00" | 11 | NIBALI Vincenzo | ITA | AST |
| 16.57'00" | 76 | KONOVALOVAS Ignatas | LTU | FDJ |
| 16.58'00" | 35 | KUNG Stefan | SUI | BMC |
| 16.59'00" | 84 | FIRSANOV Sergey | RUS | GAZ |
| 17.00'00" | 100 | ULISSI Diego | ITA | LAM |
| 17.01'00" | 204 | CANCELLARA Fabian | SUI | TFS |
| 17.02'00" | 144 | HEPBURN Michael | AUS | OGE |
Thank you for reading 20 articles this month* Join now for unlimited access
Enjoy your first month for just £1 / $1 / €1
*Read 5 free articles per month without a subscription
Join now for unlimited access
Try first month for just £1 / $1 / €1