Lampre likely for Giro despite doping investigation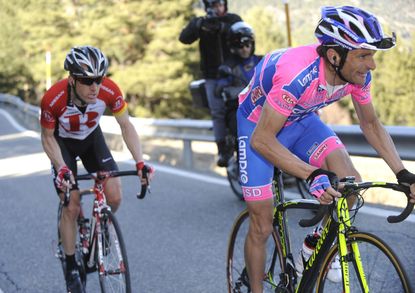 Italian team Lampre-ISD will likely race the Giro d'Italia next month despite being involved in a doping investigation.
"It's not up to us to decide guilt, that's the prosecutors' to evaluate," Lampre's press officer, Andrea Appiani told Cycling Weekly. "We have faith in our riders and our staff, we have nothing to hide."
Lampre's former cyclists Alessandro Ballan and Mauro Santambrogio were linked to a doping investigation last year centred on a pharmacy in Mantova, Italy. The investigation ended just over week ago and put the team back under fire. Investigators reportedly found that Ballan transfused his blood in May of 2009 and up to 14 cyclists, including Damiano Cunego, received illegal products from the pharmacy in 2008 and 2009.
Guido Nigrelli runs the pharmacy and Sergio Gelati is reportedly his right-hand man. The investigators discovered that Lampre's sports directors - Fabrizio Bontempi and Maurizio Piovani - encouraged their riders to visit Nigrelli.
"It's not up to us to decide their guilt, that's for the prosecutors to evaluate. We have faith in our riders and our staff, we have nothing to hide," added Appiani
Team manager Giuseppe "Saronni has known him [Nigrelli] for some time. We go to his pharmacy, we bought our products from him - normal things - it's all documented and was done with prescriptions, et cetera. After last year, though, we ended the relationship."
The Giro d'Italia starts May 7 in Turin. Italian Michele Scarponi joined the team with the purpose of winning the race this year, but has a chequered past. He was involved in the 2006 Operación Puerto doping investigation and on Thursday, visited by Italy's anti-doping police, NAS, at Lampre's training base on Mount Etna. Despite these problems, team Lampre intends to start in Turin with Scarponi.
"We have not received any official documents, everything that we've learnt has come from the press. It's hard to comment on this without any document in your hand," said Appiani.
"It's been written that CONI [Italian Olympic Committee] already has been sent the investigation's results, but that's not the case. If that happens, then they will call us in and only they will determine if there's guilt. Some newspapers have already written we're guilty."
The team has the support of its title sponsor, Lampre. Its president Mario Galbusera travelled to Maastricht yesterday to watch the Amstel Gold Race.
"We are not thinking of abandoning the sport," said Galbusera. "We want to stay on as a sponsor, we've been doing it for the last 20 years."
Giro race director, Angelo Zomegnan essentially gave Galbusera and his Lampre team a green light last week.
"The investigation still has to end," he told La Gazzetta dello Sport. "If CONI's prosecutor has something in hand, he should take action immediately with suspensions."
The CONI has yet to comment on the case, but is rumoured already to have the investigators' documents.
Related links
Lampre's Scarponi and Katusha team targeted in anti-doping operation
Thank you for reading 20 articles this month* Join now for unlimited access
Enjoy your first month for just £1 / $1 / €1
*Read 5 free articles per month without a subscription
Join now for unlimited access
Try first month for just £1 / $1 / €1