Mikel Landa leads Spain's next generation with 'impressive' Giro ride
Spanish rider Mikel Landa, 25, has been the revelation of the 2015 Giro d'Italia with two stage wins and now lies in second place behind Alberto Contador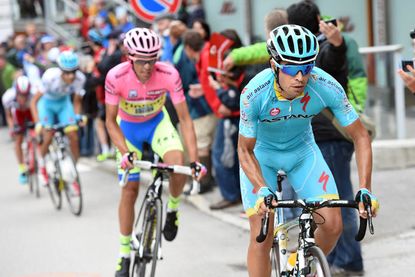 (Image credit: Watson)
Mikel Landa's ride in the 2015 Giro d'Italia has been second only to race leader Alberto Contador. Basque rider Landa may not have the pink leader's jersey to show for his efforts like Contador, but he does have two stage wins and is currently second place overall.
Twenty-five-year-old Landa's career has been steadily evolving over the past few years. He has been coming on as slow as a night out in Spain: quiet town squares and half-full restaurants and then... bang. A fiesta that lasts until dawn.
"Hungry," Landa said when he arrived in Italy for the Giro. "I'm hungry like a wolf, ready to race."
What has happened so far has been "impresionante" with two high-mountain stage wins. Landa won the stage to Madonna di Campiglio and two days later, following the rest day, he motored up Mortirolo with Contador and shot free to win on the Aprica Pass.
>>> Videos of the week: Contador's dance up the Mortirolo, a very fast descent and more
"In Spain, the newspapers wrote 'impresionante' when he won his mountain stage in País Vasco stage race," Fernando Llamas, a journalist for Spanish sports newspaper Marca explained. "That's what this is here, impressive."
Astana manager Giuseppe Martinelli has previously guided Marco Pantani, Stefano Garzelli, Gilberto Simoni, Damiano Cunego, Vincenzo Nibali and Contador to Grand Tour wins. He had hoped to win the Giro with Sardinian Fabio Aru, but could no longer ignore his Basque rider.
"I can sympathise with Martinelli," David Brailsford, Team Sky's principal said. "I've been there with Bradley [Wiggins] and Chris [Froome] in the past, it's not easy. Aru is Italian, he came here as a leader, but it's been obvious that Landa is climbing better than Aru."
Martinelli often follows sentences with 'hai capito?' ('do you understand?') but he was the one who understood heading into the Giro that it might not be Aru, but Landa that would lead Astana to success. Landa ripped apart stage five of the Tour of the Basque Country and ran close behind Sky's Richie Porte in the Giro del Trentino.
It goes further back than that, however. It goes back to the Basque Country, where a friend of Martinelli explained that a talented rider from Murguía was coming through the amateur ranks slowly, but steadily enough to guarantee a fiesta.
"I saw him race when he was still racing as a beginner. He rode with Orbea and turned professional, like all the Basque riders, with Euskaltel-Euskadi, but I kept an eye on him. As soon as the team folded, I signed him for 2014," Martinelli said sitting in his team car ahead of a Giro stage.
"He was always seen as a talent. He was a good rider, but this year... He surpassed everyone, even us. This year, he had mononucleosis, he was sick, he began the season slowly, and then caught us all off-guard. I thought he was a good rider, but not one to do what he's doing now. Now it's all possible."
Landa's opportunity came at Aru's expense. The difference was striking on stage 16. Aru lost around two minutes, but said he could have lost 20. However, he did not have one bad word for Astana's new leader who speaks English, Italian, Spanish and, of course, Basque, with ease.
"I'm truly happy for him. Yesterday, he was going so strongly," Aru explained while riding towards the start line.
"Come on, look at him now, he's won two stages... hats off to him! He deserves to be going as he is and it was right that he was able to play his cards because I wasn't well.
"He was correct, as well. We were there in the final yesterday, I wasn't well, but he stayed with me until he had the OK to go."
Aru, when asked if Landa could win a Grand Tour one day, added, "For sure, yes."
>>> Vincenzo Nibali: Don't punish Astana for individual dopers
The only hitch could be his time trial ability.
"He can climb with the best in the world, but all Grand Tour leaders need a time trial," Brailsford said.
"In most Grand Tours, you need to be able to time trial, even if it's a 14km prologue and a team time trial like in this year's Tour."
"The time trial he did the País Vasco last year was perhaps the first one he did in his life when he was really pushing it. Hai capitio?" Martinelli added. "Before, he was always going like it was a rest day."
Landa will not race the Tour de France with Nibali this year. During July, he could finalise his 2016 plans. French newspaper L'Equipe reported he would sign with Sky.
Brailsford would not comment on it. Martinelli said that if General Manager Alexandre Vinokourov wanted to keep Landa in team Astana, he would.
The only thing that is sure is that Spain hopes that Landa could follow through on the success of Alejandro Valverde, Joaquím Rodríguez and Contador in the Grand Tours. They hope this could be the start of a new fiesta.
Thank you for reading 20 articles this month* Join now for unlimited access
Enjoy your first month for just £1 / $1 / €1
*Read 5 free articles per month without a subscription
Join now for unlimited access
Try first month for just £1 / $1 / €1