Marianne Vos's Rabo-Liv team becomes Fortitude Pro Cycling for 2017
Rabo-Liv becomes Fortitude Pro Cycling in 2017 after the withdrawal of Dutch bank Rabobank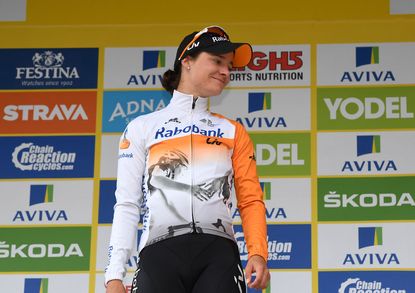 (Image credit: Andy Jones)
Women's WorldTour team Rabo-Liv will be rebranded as Fortitude Pro Cycling for the 2017 season following the withdrawal of Marianne Vos's team's main sponsor.
Rabobank announced earlier in the year that it would end its involvement with the team at the end of the year, having pulled out of men's cycling in 2012, with bike manufacturer Liv also reportedly departing the team.
Vos will be joined by 10 riders on the squad next season, including current Rabo-Liv stars Anouska Koster and Kasia Niewiadoma, but two of the team's biggest names will leave at the end of the season.
Olympic champion Anna van der Breggen will ride for Lizzie Deignan's Boels-Dolmans team in 2017 while former world champion Pauline Ferrand-Prevot will be looking for a new team next season.
"The project is based on a new kind of business plan, that will able to create a better synergy between partners so that the effect of participation for them increases and besides that gives the opportunity to constantly and instantly add new fans and partners. The name will always stay like this," team manager Eric van den Boom told Cycling Weekly.
"The traditional way of [team sponsorship] is hard to keep up nowadays that goes for men's and women's cycling. Therefore the way we created this project is innovative."
Fortitude Pro Cycling 2017 squad
Rotem Gafinovitz (Israel), Yara Kastelijn (Netherlands), Lauren Kitchen (Australia), Jeanne Korevaar (Netherlands), Anouska Koster (Netherlands), Riejanne Markus (Netherlands), Kasia Niewiadoma (Poland), Anna Plichta (Poland), Valentina Scandolara (Italy), Moniek Tenniglo (Netherlands), Marianne Vos (Netherlands)
Thank you for reading 20 articles this month* Join now for unlimited access
Enjoy your first month for just £1 / $1 / €1
*Read 5 free articles per month without a subscription
Join now for unlimited access
Try first month for just £1 / $1 / €1