New British champion Steve Cummings asks Twitter whether he should go for white shorts
British road and time trial national champion Steve Cummings turns to Twitter to ask whether he should wear white or black shorts with his new stripey jersey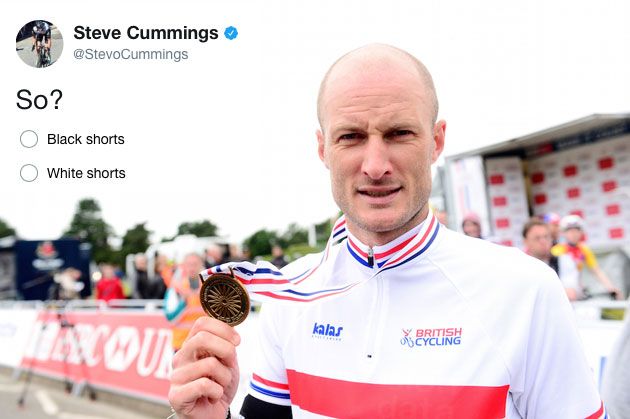 Newly-crowned double British champion Steve Cummings has asked his Twitter followers whether he should opt for controversial white shorts to match his national champion's jersey, or go for a more subtle black option.
It may seem a trivial question on the back of a dominant show of force by Cummings in the time trial and road race championships on the Isle of Man – but it is one that always stirs up heated debate among cycling fans.
The 36-year-old Dimension Data rider posted a poll on Twitter on Sunday, asking his followers to vote for the colour of his shorts in the forthcoming season, simply saying 'So?' and with two possible answers.
Critics of white shorts brand them impractical and too flash; whereas black shorts are the more traditional option, not showing the grime of bike racing but perceived as a bit staid.
At time of writing, Cummings' poll had attracted well over 9,000 votes, with a convincing 84 per cent saying he should go for black.
>>> Steve Cummings: 'That was the worst race I have ever done in my life'
Previous British national champion Adam Blythe was not so sure. Blythe opted for an all-white kit for his year in the national champ's colours and gave his opinion to Cummings in a Twitter reply: first saying "ALL WHITE Stevo!" and then "Does a bear s**t in the woods? Obvious answer."
Cummings' double win was a remarkable one – it was his return to racing after fracturing his collarbone, sternum and scapula at the Tour of the Basque Country in April.
It's the first time that a male rider has taken both titles since David Millar in 2007.
Although the result clearly signals that the enforced lay-off has done little to diminish his fitness and racing style, Cummings is waiting to see whether he gets a call-up for this year's Tour de France (July 1-23).
Last year, Cummings won stage seven of the Tour after a trademark solo attack to Lac de Payolle.
There is perhaps a more controversial question that has yet to be addressed by Cummings with respect to his new national champs' outfit: should he go for white or black socks?