Owain Doull: Signing to Team Sky will not get in the way of Olympic focus
Welshman Owain Doull has a bright future ahead of him as a road rider, but for now he says he's fully committed to riding for Great Britain at the 2016 Olympic Games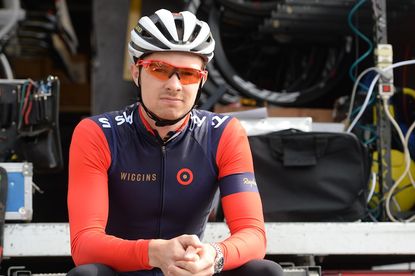 (Image credit: Andy Jones)
Owain Doull will join Team Sky as a stagiaire in the immediate aftermath of the Rio Olympics but is hopeful that the Team WIGGINS outfit helping steer him towards a gold medal will continue for another Games cycle.
Doull has said the fledgling Continental outfit, founded by Bradley Wiggins and designed to foster British track endurance talent in the lead-up to Rio, has been advantageous to the squad vying for selection.
"I think it's a massive advantage and Brad is keen to keep the team and what it is going," Doull said. "Obviously having Brad's name to it helps a lot. It's a platform to get to good races and opportunities, so hopefully it carries on."
>>> Team Sky confirm that they have signed Owain Doull
WIGGINS houses most of the Great Britain national track endurance squad including Doull, who is currently competing with the domestic trade team at the Tour of California in a return from injury.
Olympic arch-rival Australia trialled a similar project last season to ill effect with the Budget Forklifts outfit, which served more or less the same function as WIGGINS, but it disbanded.
"[Team-mate] Andy Tennant has said on other UK trade teams you can be dragged left, right and centre whereas at WIGGINS everything we do is agreed on by both [national track coach] Heiko [Salzwedel] and Simon Cope, who is the [WIGGINS] DS, so everything is run in conjunction," he said.
"For other teams, for example, in the UK the Tour Series is really heavily important to them whereas for us it's not a bigger picture than Rio. So we don't have to ride those Tour Series [events] if we don't want to, as a team pursuit squad, but if we want to use them as training we can. It should pay dividends."
Doull has made a strong return from a knee injury at the Tour of California, which is effectively serving as an extension of a preceding 10-day track squad training camp at Big Bear that included Wiggins, Mark Cavendish, Ed Clancy, Steven Burke, Andy Tennant and Chris Latham.
"Experience beats youth hands down in pretty much all of the exercises to be fair," he mused.
The 23-year-old finished 14th in the time trial at California yesterday and featured in the main break on stage five to Lake Tahoe.
>>> Rohan Dennis wins Tour of California time trial as Julian Alaphilippe retains overall lead
Doull was scratched from the Tour de Yorkshire earlier this month and forced to observe complete rest after aggravating a knee complaint that initially caused alarm.
"It got to the stage where I had to have two to three weeks off but luckily it's settled down now and is all under control. It was quite worrying to be honest, with the Olympics, so I'm just relieved to be riding pain free," he said.
"I was hoping to be going a bit better in California off the back off all that racing form but it's one of those things. I had to take the first few days out [at Big Bear] cautiously just to make sure it didn't fire up again but it's all fine now."
The Welshman has said his road career will become a full-time occupation after Rio and he will join Sky at an altitude camp five days after the event. For now, though, the Games and a shot at Great Britain team pursuit glory remain the chief priority.
"My aim is to finish the track in Rio and focus on the road for the foreseeable future. That's where I see my future," he said.
Watch: Show us your scars - Owain Doull
Doull said the endurance squad is on the right course and that the recent furore that engulfed British Cycling, with technical director Shane Sutton stepping down, has not had a negative impact on the group.
>>> Owain Doull chooses 'Team Wiggins' over Europcar
"You think about it but it hasn't really affected what we are doing at all. We're all pretty focused and before it all kicked off there was a solid plan in place and that plan has been stuck to. We're fortunate we've got a real great coach in Heiko and real great support so nothing has really changed much. We just carry on working hard with the ambition of winning in Rio," he said.
Owain Doull speaks exclusively about his move to Team Sky and forward focus on the road in the next edition of Cycling Weekly magazine, out on Thursday, May 26.
Thank you for reading 20 articles this month* Join now for unlimited access
Enjoy your first month for just £1 / $1 / €1
*Read 5 free articles per month without a subscription
Join now for unlimited access
Try first month for just £1 / $1 / €1