Peter Sagan and Bora-Hansgrohe to have court hearing against UCI over Tour de France disqualification
The world champion and his team will head to the Court of Arbitration for Sport in December to plead their case that Sagan should not have been disqualified from the 2017 Tour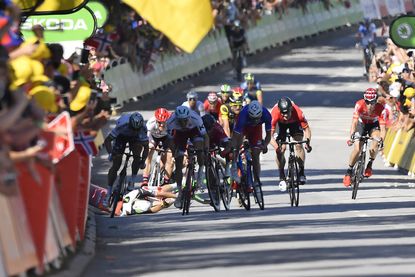 (Image credit: Yuzuru SUNADA)
Sport's high court, the Court of Arbitration for Sport (CAS), will hear Peter Sagan's case over whether or not he was unfairly disqualified from the 2017 Tour de France after an incident that lead to Mark Cavendish crashing.
The hearing will take place on December 6 in Lausanne, Switzerland.
>>> How Peter Sagan's coach helped to unlock the world champion's amazing talent
In the high-speed sprint on stage four to Vittel on July 4, Cavendish (Dimension Data) shot up the right side of the road and Sagan's right elbow came out.
Out of space, Cavendish tumbled and broke his right shoulder blade and eventually abandoned the race. Hours later, the UCI jury disqualified Sagan under rule 12.1.040 for irregular sprinting.
Sagan's Bora-Hansgrohe team made an express appeal to CAS for Sagan's reinstatement in the Tour de France, but the court upheld the jury's call. The team said that the jury never heard and should have listened to Sagan's side of the story.
The CAS will listen now in Lausanne to Bora's case against the UCI over the application of the rule and resulting financial losses without its Slovakian star leading the team for the remaining three weeks.
Bora signed Sagan for an estimated €4 million annually starting this 2017 season and joined the WorldTour ranks as a result. With Sagan, the Tour had offered them a precious publicity opportunity.
A favourable Bora ruling could change how sprints are reviewed in the hectic moments following a race.
"The team and Peter Sagan would like to reiterate their position that Peter Sagan did not cause, let alone deliberately, the fall of Mark Cavendish," the team said at the time. "Peter Sagan stayed on his line and could not see Mark Cavendish on the right side."
"I didn't do something wrong in the sprint," Sagan said after his disqualification in July. "What is bad is that Mark fell down and it's important that he can recover well. I'm sorry for that."
The jury, however, stuck to its decision following Sagan's disqualification from the Tour. It has warned the cyclists beforehand that it would be watching the sprints closely.
"The jury decided to disqualify Peter Sagan because of the very serious manoeuvre in the sprint," UCI Jury president at the Tour, Philippe Marien said.
"It's a very severe violation. It doesn't matter if it's the name Sagan, this disqualification is qualified and justified."
The CAS listed it among 20 other cases it will hear over the next month: CAS 2017/A/5225 Peter Sagan & Denk Pro Cycling GmbH & Co. KG v. Union Cycliste Internationale (UCI).
It is not sure, but it is not out of the question that Sagan could attend the hearing in Lausanne. He recently celebrated the birth of his baby Marlon and announced that he will begin 2018 in Australia's Tour Down Under stage race.
Thank you for reading 20 articles this month* Join now for unlimited access
Enjoy your first month for just £1 / $1 / €1
*Read 5 free articles per month without a subscription
Join now for unlimited access
Try first month for just £1 / $1 / €1