Planned women's Tour de France cancelled for second year in a row
Route de France Féminine cancelled once again after host department pulls out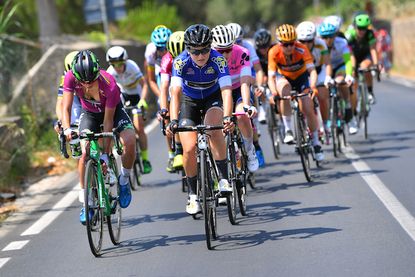 (Image credit: LC/Tim De Waele/Corbis via Getty Images)
The Route de France Féminine, the stage race which acts as a successor to the Tour de France Féminin, has been cancelled for the second year in a row after the withdrawal of a department which was due to host two of the six stages.
After the 2017 edition of the race was cancelled in a row over dates and the decision of the UCI not to award the race WorldTour status, organisers have again been forced to cancel the event after the Nievre department in central France withdrew from its hosting commitments.
With the start of the race just seven weeks away on June 5, race organiser Hervé Geradin wrote that he had no choice but to cancel the even with a region pulling out of hosting stages at such short notice.
>>> Boels-Dolmans continue their dominance despite Lizzie Deignan's absence
"The route was unveiled in March to communities, partners, media and teams," Geradin wrote in a statement.
"Then there was a twist last Friday, first a call and then a letter received on Saturday confirming the withdrawal of a community that had agreed in writing to host the two stages in Nievre.
"I have no alternative, and I am obliged with less than seven weeks to go to make an emergency decision. It is with great bitterness that I took the decision this Sunday to cancel the 2018 edition of the Route de France Féminine.
"I deplore this surprising attitude, it's contemptuous of the other communities that have invested in this event, but also for the partners, the media, the teams, and the entire staff of the organisation."
>>> La Course by Le Tour de France goes back to being a single day race in 2018
Geradin also wrote that the decision of the department to withdraw from the race and the subsequent forced cancellation of the entire event was the last straw for his involvement in women's cycling.
"This cancellation will have very serious repercussions in the next few days on the survival of organisation, but I can officially announce my final withdrawal from the world of international women's cycling."
The Route de France Féminine was established in 2006, and from 2009 had been France's major women's stage race after the demise of the Grande Boucle Féminine Internationale. However it has faced numerous organisational problems throughout its history, and was also cancelled in 2011.
Thank you for reading 20 articles this month* Join now for unlimited access
Enjoy your first month for just £1 / $1 / €1
*Read 5 free articles per month without a subscription
Join now for unlimited access
Try first month for just £1 / $1 / €1