Racing for free: Eileen Roe eyeing worlds win after two years with no salary
Persistence through two years without a team salary pay off for Scottish champion Eileen Roe, who hopes her skills can bring another rainbow jersey for Great Britain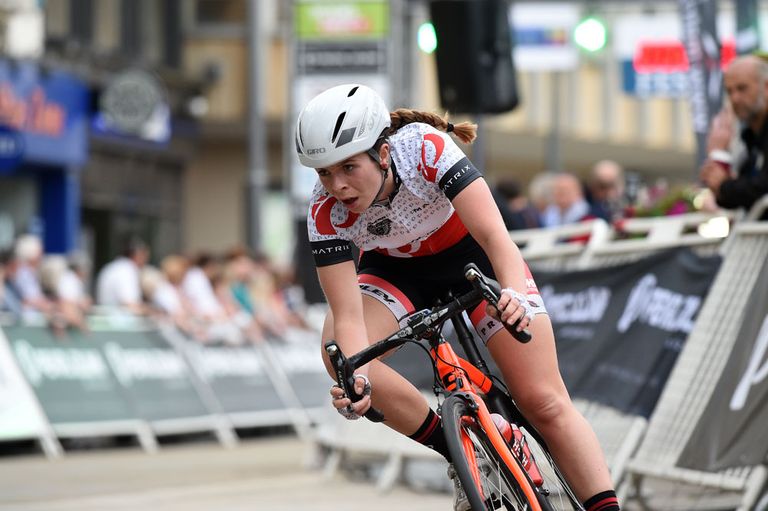 This Saturday's women's world championships road race will be the biggest race of many riders' lives, not least that of Eileen Roe. Not only is it the first time the 27-year-old Scot has been selected to represent Great Britain, but her inclusion comes off the back of a less than ideal season.
This is Roe's second year on a UCI-registered team and she is yet to be paid a salary by either outfit she has raced with.
Indeed, during 2016 her Belgian Lares-Waowdeals team have been unable to pay expenses, and an eventual lack of cash forced Roe to curtail her European racing in mid-July, returning to work at the Edinburgh Bicycle Cooperative.
"It was pretty hard," Roe told Cycling Weekly. "I had to work quite a few shifts through the winter to gather a bit of money, and my family is always supportive, but there is only so much you can take from them. When it got to the British champs in July that's when the funds ran out.
"It was brilliant at the start of the year because it was really busy. You're racing the spring classics and we raced in Qatar, and I don't want to take anything away from it because with a negative there is a positive, and I was able to be picked for the worlds."
Read more
UCI Road World Championships: Bergen 2017 route preview

Amber Neben wins women's time trial world title

Eight riders to watch in the World Championships individual time trials

After spending 2015 with what was then Wiggle-Honda, Roe believes the late deal with Lares-Waowdeals was part of the reason for the terms of her contract. However, her conditions at the British registered team were not much better.
"Expenses were paid and the riders were well looked after, and you got a car, but there was not a salary involved," she explained.
"But I really enjoyed my time on Wiggle, it was amazing. I couldn't believe the calibre of rider I was on the team with, world champions from road and track, I was in awe and we got so much stuff that a wage wasn't really in the front of my head!"
If two national circuit race titles and three second places in five years proved Roe's innate ability to navigate a hectic peloton, it was her performance at February's Ladies Tour of Qatar which confirmed her flair for putting that into practice at the top level of the sport.
On a wind ravaged second stage the Fife born rider found herself riding with the world's best in the echelons which often characterise racing in the Gulf state.
With a lack of racing in her legs, when British Cycling contacted her about the worlds Roe contacted Sheffield based Team WNT, who offered her a ride in the six day Ras nam Ban in Ireland.
A stage win and the points jersey not only boosted form and confidence for this Saturday's race, it culminated in a contract with the team, who have applied for UCI status next year.
Despite her experience over the last two years, Roe believes the women's side of the sport is changing. "WNT have managed to secure sponsorship for next year and they are growing and bringing in riders. I'm hoping the juniors that are coming through don't have to go through the hard times with no money."
Though Saturday's race is unlikely to be affected by desert winds, Roe is hoping her positioning skills will bring another rainbow jersey to Great Britain.
"It's a crazy place, the finishing circuit is really technical but super fast," she explained. "I've never been to a world championships before, so I'm super excited and just can't wait, but I'm a little bit nervous."