The secret life of a soigneur
This all-consuming role is part housekeeper, part masseur, part confidant and, well, part dogsbody. Just don't push them too far...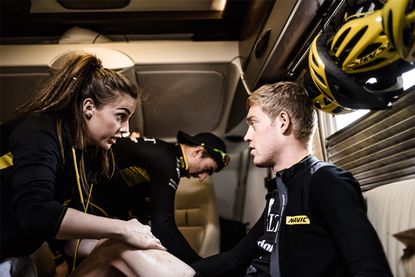 Get The Leadout Newsletter
The latest race content, interviews, features, reviews and expert buying guides, direct to your inbox!
Thank you for signing up to The Pick. You will receive a verification email shortly.
There was a problem. Please refresh the page and try again.
Like the Scouts, to be a soigneur on a professional cycling team you have to always be prepared. For what, exactly, is where things start to get more complicated.
"You get asked a lot what is a soigneur, what does a soigneur do? It's a question that I don't think I've ever truly found the answer to," says Garry Beckett, one of the most experienced soigneurs in the peloton today. He has worked for British Cycling, on the six-day scene, and currently works for WorldTour team Cannondale.
"If it's someone who's not from the game I say you look after the welfare of the members of the team. I'm a cyclist labourer."
However, Beckett is clear about one thing. "Don't call me a carer," he insists.
Soigneurs, colloquially known as 'swannies', have traditionally been known as the members of team staff who give the riders massages. It has, however, grown into a role that requires people to assist with almost everything and anything a rider needs.
Beckett says massage accounts for only 10 per cent of the job, while John Herety, team manager at JLT-Condor and former director of racing at British Cycling, says massage is the element he is least worried about when it comes to finding a good soigneur.
"A soigneur is part of the support team staff that is there to make my life easier, not just the riders' lives," Herety says. "It's a long day, they are on call from very early in the morning to last thing at night. It looks glamorous from the outside, but it's a hard, hard job."
Soigneurs are often the first ones in the team up in the morning, and among the last to go to bed. Days can start at 6am and not finish until 10pm.
>>> British Cycling warns riders about speaking out on scandals in leaked email
The job requirements form an endless list which includes taking riders to and from airports, doing the food shopping, making breakfast, washing kit, filling the bidons and musettes for races, handing them out in the feed zone and waiting for the riders at the race finish line, washing the team cars, driving, pinning on numbers and repairing broken kit.
Being able to speak multiple languages is also a big benefit.
Team Sky's breakfast
"You have to be able to roll with the punches a bit, with riders' and directeur sportifs' moods," says Beckett.
"You have to have well above average driving skills. You have to make a good sandwich, run errands, you have to be able to work very long hours and drive huge distances. I've seen a lot of people come and go that thought, 'Yeah, I'll be a swanny; I've done all the courses, I've got the paperwork,' and they last two or three months."
>>> 'It feels to me like we are governed by a few, who operate with an air of entitlement'
Reliability is a key quality required of a soigneur, according to Herety. Whatever the issue or task that needs doing, a manager wants to turn around and know the soigneur is there, and is capable of doing the job. "A soigneur needs to be there, able to do everything," he says.
Being able to plan ahead is also a must, says Beckett, as you never know what the next day may bring, particularly when you are abroad travelling at stage race.
"You're always thinking two days ahead," he says. "Go away to a race like the Tour of Poland and when you go food shopping, if you find something you need, you buy the lot, clear the shelf, because you don't know when you're going to get it next.
"It's embarrassing when you stand at the cash register, you're in a small Polish village — it happened to me last year — and they're looking at you as the weird foreign guy with a shopping trolley overflowing with tins of tuna."
Memory man
Experience is what Luc De Wilde, soigneur for British Cycling for the last decade, believes helps him most.
Having worked with almost every current British rider at some point on the track or road, De Wilde's CV includes two Olympic Games, 36 Track World Cups, 10 Road World Championships and he completed his 11th Track World Championships in London last month.
De Wilde says that he doesn't take notes or have a logbook of each rider's likes or dislikes, he just memorises their preferences.
"I've worked with most of the riders for 10 years, I have a good relationship with them," he says. "You know their preferences. Weetabix with the chocolate in is a favourite — anything with chocolate in the riders like."
>>> Icons of cycling: UK Sports Institute track bike
Riders have a reputation for being prima donnas, but just how demanding are they?
"They'll always push the boundaries if you allow them," says Beckett. "You have to be ready to parry some weird and wonderful requests."
De Wilde remembers being at one National Championships TT when a rider asked one evening if he could wash his kit for the next day. As De Wilde didn't have a washing machine, he ended up hand-washing it in the hotel bath. "They are so focused on cycling, that's their job, they don't worry about anything else."
Beckett adds that no request is too peculiar. "If it's something they should have, you do it. It's part of the job, even if it's a pain in the arse."
>>> Inside the medal factory: A look at the British Cycling Academy
However, he insists there must be respect between the two parties. At a recent edition of the Tour of Langkawi, when a rider turned up 45 minutes late for his massage with no warning, Beckett refused to do it.
A similar situation occurred when Beckett was Sir Bradley Wiggins's soigneur at the Munich Six-Day.
"He sent me a message to say, 'I'll be half hour late for me rub.' Then he turned up. I said, 'What do you want?' He said, 'I've come for my massage.' I said, 'No, not today.'
"He replied, 'I sent you a message to say I'd be late,' but I said 'Yeah, you were already late when you sent that message.' Give him his due, he said, 'Alright Gaz, sorry,' and went away."
Confidant
Looking after rider well-being may not be in a soigneur's official job description but given the amount of time they spend together, it can become a significant part of their role.
Trust is key in the relationship between the two and for many riders their soigneur can be a confidant, a person they talk to about anything going on in their lives. Often it has nothing to do with cycling.
"Your massage table can sometimes be like a barber's chair. Many riders come to the table and open up about their lives and not talk massages," says Beckett.
"You see them at the lowest they're ever going to be in their lives and you see them at their best. You carry a lot of secrets for them; very rarely would you ever say anything to the DS, unless you think it's detrimental to their health or detrimental to the team."
>>> Rider rubbish is becoming a sad by-product of cycling's popularity
De Wilde agrees, and says the psychological aspect is the most underestimated part of his job: "I always say the coach, the rest of the team and the staff are about the rider's performance, but they don't want to talk about performance all the time. I'm the person, even the mechanics when they have time, we are the people that they can talk with about everything. I call myself the uncle they want to talk to."
While the athletes may be under huge pressure to perform, the soigneurs also have to ensure they remain calm when working. "It's the environment that makes a difference," De Wilde says.
"If there's an Olympic medal at the end, I have to be the one who is calm, relaxed. I always have to hide if something goes wrong because if I look nervous or my colleagues are nervous it reflects on the riders. When I started working, someone always said to me, 'Make sure that the riders can't find any excuses for lack of form,' and I always remember that."
For Beckett, one of the most high-pressure environments is the feed zone during a road race, where soigneurs are required to hand out musettes and bidons to their team's riders.
"The feed zone is a very dangerous place," he says. "Every time you do it, when you feel that bag go out of your hand and you don't hear metal scraping on the tarmac, you breathe an inner sigh of relief."
In fact, Beckett still suffers from a muscle tear in his shoulder that occurred when he handed a bottle to a rider going full speed at Paris-Roubaix. He also recalls a time when former Garmin-Cervélo rider Andreas Klier tore ligaments in his thumb and crashed when the pair mistimed their bidon pass.
Nevertheless, while a soigneur's hours may be long and the job specification never-ending, it's clear why people get into the role. "Soigneurs are people that really, really love the sport," Herety says.
"You have to enjoy what you do," adds Beckett. "You have to get that buzz when a rider that you've played a small part in helping, when they win, when they stand on that top box you have to feel that emotion because you've helped."
And when you find a good soigneur, Herety says: "They are worth their weight in gold."
Behind the scenes with Team Wiggins
Soigneur stories
Luc De Wilde
Belgian Luc De Wilde has been a soigneur at British Cycling for 10 years ever since a friend asked him to help out at the 'Baby Giro'. He was a plumber at the time.
Picking up the wrong rider
While doing some freelance soigneur work for Team Sky, De Wilde was asked to pick up two riders from the airport. One of the two was Sergio Henao, while a colleague was due to collect Salvatore Puccio an hour later.
>>> Sergio Henao withdrawn from racing by Team Sky as blood values are investigated
"They were new [to the team] so I didn't know them," he recalls. "I had one of the riders already and was waiting for the other. I saw a Sky rider coming out of the airport so thought it would be Henao. He got in the car, and I said to the rider next to me, 'He's quiet, the Colombian.' He said, 'What do you mean?' 'It's Henao in the back,' I said. He replied, 'That's not Henao, that's Puccio.'
"I had picked up the wrong one and left Henao. They kept laughing about it after, calling Puccio Henao."
The strangest request
Sir Bradley Wiggins is known for his sense of humour, but De Wilde recalls one time the Tour de France winner sent him on a hunt for HP Brown Sauce when the GB team was on a training camp in Tenerife.
De Wilde went on a four-hour round-trip to do the shopping only to discover Wiggins was only joking and didn't really want it. "That's his way of making fun," De Wilde says, laughing.
What's your position like?
Garry Beckett
Londoner Garry Beckett is a soigneur for Cannondale. He has also worked for British Cycling and on the six-day scene, and he also organises the Bec Hill-Climb.
The problem with national champions
Handing out musettes and bidons in the feed zone during a road race is a key task for a soigneur, but when there are 100 riders or more in a race, what happens if you can't spot the ones on your team?
"When Dan Craven joined Rapha-Condor [in 2009] the men in black had a man in white. He was the African cycling champion, so wore a white jersey," says Beckett.
"He was always missed every time in the feed zone, I don't think he got a musette for a season. It became a joke that he wouldn't be national champion the following year."
Overhearing too much
There are times when a soigneur can become privy to more personal information about a rider than they would perhaps like to know.
Once, at a stage race, Beckett was massaging a rider who was in the leader's jersey. While she was on the table, her boyfriend called to break up with her.
"I could hear the conversation, including what the boyfriend was saying," says Beckett. "I was thinking, 'What a bastard,' because he was using all the standard clichés.
"She was in the yellow jersey, with two or three days to go, in a major women's race. I thought, 'How can you do that?' She was in bits."
Thank you for reading 20 articles this month* Join now for unlimited access
Enjoy your first month for just £1 / $1 / €1
*Read 5 free articles per month without a subscription
Join now for unlimited access
Try first month for just £1 / $1 / €1
Get The Leadout Newsletter
The latest race content, interviews, features, reviews and expert buying guides, direct to your inbox!