Team Sunweb reveal Tom Dumoulin's world champion's time trial skinsuit
All-white design for time trial world champion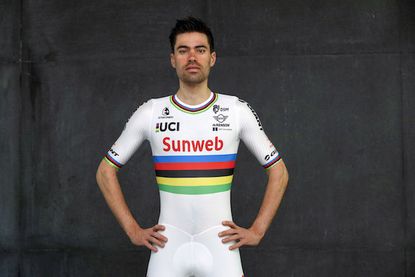 (Image credit: LB/RB/Cor Vos)
Team Sunweb have unveiled the world champion's rainbow jersey that Tom Dumoulin will wear in time trials during the 2018 season, keeping it nice and simple with a classic white look.
While the team has come in for some criticism in past seasons for national champion's jerseys that are barely distinguishable from the team's standard jersey, there should be no such controversy over Dumoulin's world champion's jersey.
The Dutchman will follow the likes of Bradley Wiggins and Fabian Cancellara with an all-white world champion's time trial skinsuit, the rainbow bands taking pride of place around his midriff with the Sunweb logo in red slightly above, with rainbow bands also around the cuffs of the shorts and jersey.
However a team's press release said that they had had "dialogue" with the UCI about the design of the jersey (the sport's governing body holding the trademark on the rainbow band design and having to give approval to any world champion's jersey), hinting that they may have preferred a different design more in line with the "team's identity".
"With the presentation of the 2018 suit, Team Sunweb continue their call for progression and remain committed to creating a healthy and fair position for riders and their teams," a team press release read.
"As those who bring the sport alive for fans, riders and their teams deserve a fair and genuine voice in decision-making and the future economical perspective, holding firm their belief that this should be equally balanced with the interests of other stakeholders in the sport.
"The protection of the look and feel of the team's identity versus a growing number of mandatory jerseys, rider's safety and stability for riders and teams are examples, alongside many more important decisions potentially impacting the future of teams and their riders, of which they deserve a fair voice.
"The team appreciates the dialogue with the UCI about this subject."
Watch: WorldTour bikes guide 2018
http://www.youtube.com/watch?v=_AntnS1WXA4
As for Dumoulin, the Dutchman says that he is happy with the design of the jersey - as well as his matching Giant Trinity Advanced Pro time trial bike - which he will debut on stage four of the Abu Dhabi Tour on Saturday.
"I am very proud of what I have achieved and to have the opportunity to wear the rainbow jersey for this year is something very special to me," Dumoulin said.
"I fully support the team's efforts to improve our position as riders and as a team. The kit looks really great and is balanced, I will certainly wear it with pride this year."
Thank you for reading 20 articles this month* Join now for unlimited access
Enjoy your first month for just £1 / $1 / €1
*Read 5 free articles per month without a subscription
Join now for unlimited access
Try first month for just £1 / $1 / €1