Top 14 cycling fan fails
Amateur photographers, people in fancy dress and dogs all add to the free, side-of-the-road festival atmosphere of a pro bike race. But sometimes it goes a little bit wrong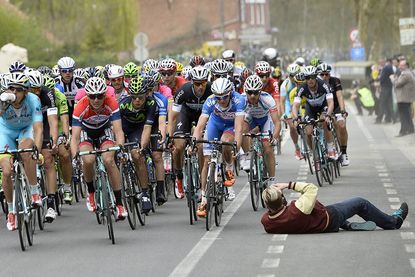 (Image credit: Watson)
Get The Leadout Newsletter
The latest race content, interviews, features, reviews and expert buying guides, direct to your inbox!
Thank you for signing up to The Pick. You will receive a verification email shortly.
There was a problem. Please refresh the page and try again.
Ah, bike race spectating. What fun. Standing by the side of the road all day to watch the peloton flash by is a surprisingly good way to spend your time. But sometimes the fans at the side of the road take things a little too far, or get things a bit wrong.
Here's our pick of the most outrageous cycling fan fails.
>>> It's never too late: taking up racing as a veteran
1. Giuseppe Guerini floored on Alpe d'Huez
Picture the scene. You're on Alpe d'Huez, inside the final kilometres and the race is speeding towards you. You've got your brand new compact digital camera in your hand and that baby is packing a million pixels in to that one inch, barely visible square screen on the back. Nothing's going to stop you getting the best picture ever taken at a bike race. This is your big moment.
There's a lone rider coming towards you, so you step out in to the road with everyone else and raise your camera to your face. You've seen all the photographers on TV do it, how hard can it be?
https://youtu.be/4dBvJkqv0DM?t=4m50s
Here he comes. Don't panic, he's miles away. Everyone then kindly steps out of the way just so you can get the picture. Hold steady…….. wait for it……. Don't worry, the camera will auto focus….. not yet…. BANG! What the ….?
2. Gendarme in Armentiéres
Did Gendarmes really stand in the road in the finishing straight at the Tour de France? Yes, incredibly, they did. This crash is still too gruesome to poke fun of, but it has to go in our countdown.
https://www.youtube.com/watch?v=pya6ZVW-oKg
3. GW Photoguy
It's the haircut that really gets me. Social media went mad when 'GW Photoguy' lay down on his back in front of the speeding Ghent-Wevelgem peloton with camera in hand. It was an incredibly stupid decision. But not half as stupid as the decision to go for an undercut WITH bleached highlights. And as for that jacket……..
>>> GW Photoguy becomes Twitter hit
4. Contador punch!
The greatest grand tour rider of a generation, the man who single-handedly slapped down Lance Armstrong and Johan Bruyneel in 2009, the saviour of Spanish cycling. No. Alberto Contador should always be remembered for the best back-handed punch ever delivered in a bike race.
http://www.youtube.com/watch?v=O0W__FNIGwA
The little Spanish climber was losing the 2011 Tour de France to Cadel Evans when the race was going up Alpe d'Huez, so perhaps he didn't see the funny side of a fan, dressed as a surgeon, running alongside him offering a blood bag. He didn't do that kind of thing. (Anymore, ahem.)
It is truly one of the great things about the sport that a rider can go round punching people in the face and there be no recriminations, fines or time penalties issued afterwards. I was a bit surprised that Contador's arm didn't snap on impact, but there you go.
5. Armstrong versus a kid with bag
Throughout seven drug-fuelled years of domination nothing came close to stopping Lance Armstrong winning the Tour de France. Except for a seven year old kid with a yellow mussette. That kid hasn't paid for a drink since. And neither should he. Chapeau.
6. Italian man out for a walk
This unlucky chap just popped out for a nice little walk down the road when a bloomin' bike race selfishly pushed him to the edge of the road. And then off the edge of the road. Note how everyone leaps to his rescue. or not.
http://www.youtube.com/watch?v=lZUYKdjwcm0
7. Gilbert confronts the guiltiest looking dog in the world
Dogs and bike races don't go together, we all know that. But we just can't leave our four legged friends at home on their own, can we? Perhaps a few more people could stretch to putting their dogs on leads and tying them to something solid.
>>> Tour de Yorkshire fans find new ways to entertain themselves and the riders
Having said that, this dog is so big they could have tied it to a truck and he would have just dragged it along behind him. Best thing about this is the guilty look on the dog's face when Philippe Gilbert confronts it. Had the dog bared it's teeth Gilbert would have run a mile
http://www.youtube.com/watch?v=22LzG-RtJYs
8. Groping Dutchman
A lot of these incidents are quite funny, whereas this one has a slightly more sinister tone to it.
This 'over enthusiastic' Dutch fan claims it was an accident, but no matter how many times we watch this video we still think it looks deliberate. His hand movement changes from a fist pump to something else when the riders approach. I guess we'll never know.
http://www.youtube.com/watch?v=vLB3CDZ7GNo
9. Voeckler throws his toys out of the pram. Again.
The exploits of Thomas Voeckler used to be cycling gold. Now they're getting a bit boring as you sense the Frenchman is becoming a parody of his old self in a bid to remain relevant. Perhaps getting boo'd by drunk fans at the side of the road does get tiring after a few years. Still, stopping mid race to tell someone off seems a little strange. Even by Voeckler's standards.
http://www.youtube.com/watch?v=1RYBln_Jnas
10. Fan versus Fan Alpe d'Huez takedown
http://www.youtube.com/watch?v=Ls3NxXSb1K0
Riders absolutely love it when a drunk spectator in fancy dress runs alongside them shouting incomprehensible words of encouragement. Really they do. So why the hell would another fan get so upset by such chucklesome tomfoolery? This guy in blue did.
>>> Adam Hansen enjoys his traditional Alpe d'Huez beer
Afterwards the running man confronts his assailant and what ensues can only be described as the most pathetic fight ever witnessed on French territory.
And there's more! No sooner had we published this story than we remembered a few more classic moments from bike races. So forgetting the headline for a minute we're taking this up to 14.
11. McEwen loses his bottle
Sprinters are fiery by nature, and few were more fiery than the little Aussie pocket rocket, Robbie McEwen. In this video he almost takes the arm off a fan who grabs for his bidon as he rides past. Now, we may be wrong here, but it looks like two fans grab for the bottle and McEwen bravely decides to confront the smaller of the two. #justsaying
http://www.youtube.com/watch?v=K7O1yMRYSQo
12. Hi Mum, I'm on the telly!
No doubt about it, mobile phones are the best thing that have ever happened to pro bike racing.
For the last century the sport has been waiting for the arrival of technology that allows fans to stand there, ignore the riders and take selfies or ring home to say "I'm at a bike race!" Bike riders need to understand how important this is and kindly ride around fans taking up space in the road when doing this. Even those wearing the yellow jersey.
http://www.youtube.com/watch?v=3umXnfTBtC0
13. Irish selfie scandal
This was the picture that stole the show during the Giro d'Italia's visit to Northern Ireland last year. The photographer, a local yoof with no idea of what a bike race is, snapped a selfie with Marcel Kittel just after a crash. And the internet went mad.
Only Kittel hadn't crashed, and this wasn't a local kid taking the p***. David McArthy, who rode for the Nicholas Roche Performance team, was the fan and Kittel was sat on the ground, after the finish, catching his breath.
>> Kittel selfie photographer apologises
After the Twitter storm McCarthy apologised saying it was neither the time or the place for a photograph, and Marcel Kittel himself didn't seem too worried, Tweeting; "Guess you learned your lesson. So did I when my Grandma found me playing with fireworks next to our barn full with dry hay. Oh and remember: social media can be mean… ;)"
14. Atapuma's puma
There can be no better feeling as an eccentric roadside fan than when your favourite rider is out on a solo break on one of biggest mountain stages of the race.
In this case, Darwin Atapuma of BMC was attempting to solo to a glorious victory on stage 14 of the 2016 Giro d'Italia when one superfan took the chance to get up close and cheer him on.
Needless to say, in the chaos and narrow road through the crowds, things didn't quite go right for the puma superfan as the motorbike behind gently knocks him off balance right as he's getting in to the swing of things.
A face first tumble ensues and to make things worse, the Colombian rider fell short in search of his stage win.
Thank you for reading 20 articles this month* Join now for unlimited access
Enjoy your first month for just £1 / $1 / €1
*Read 5 free articles per month without a subscription
Join now for unlimited access
Try first month for just £1 / $1 / €1
Get The Leadout Newsletter
The latest race content, interviews, features, reviews and expert buying guides, direct to your inbox!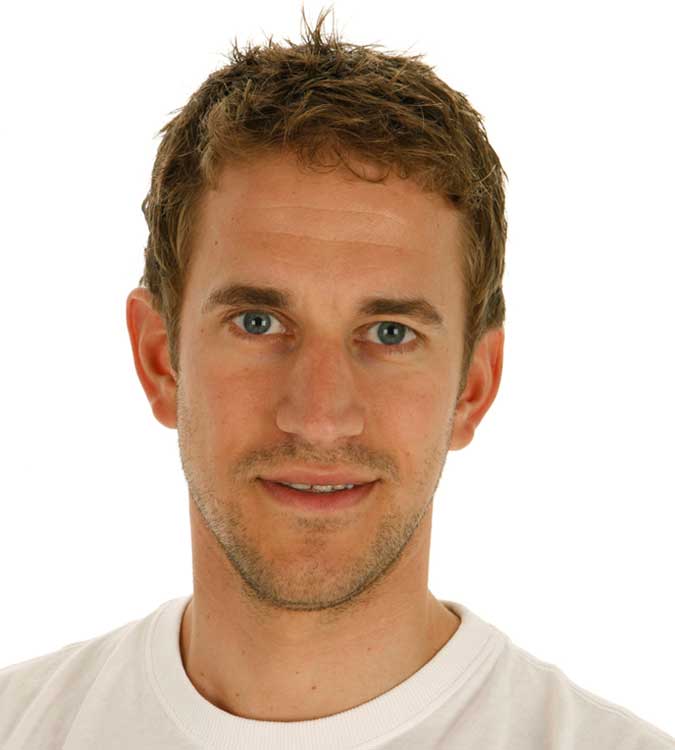 Editor of Cycling Weekly magazine, Simon has been working at the title since 2001. He fell in love with cycling 1989 when watching the Tour de France on Channel 4, started racing in 1995 and in 2000 he spent one season racing in Belgium. During his time at CW (and Cycle Sport magazine) he has written product reviews, fitness features, pro interviews, race coverage and news. He has covered the Tour de France more times than he can remember along with two Olympic Games and many other international and UK domestic races. He became the 130-year-old magazine's 13th editor in 2015.